Language Studies can sometimes be a little tough for homeschoolers.
Progeny Press
has study guides for the various classics that you may be reading. Recently, I was provided the 
Macbeth E-Guide
  to use and review,  Shakespeare plays can be difficult to read and understand but with assistance from a study guide, it can be made more manageable.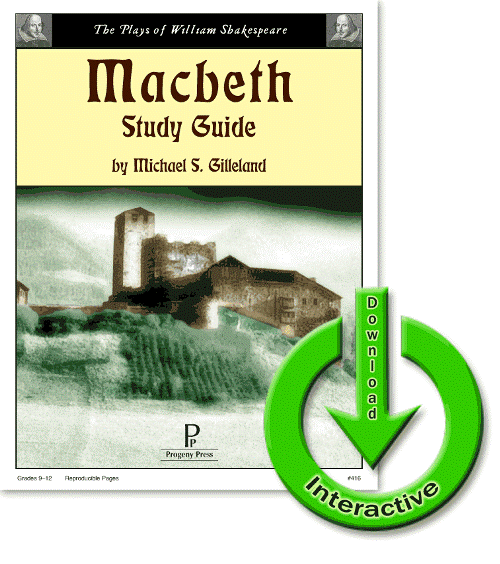 The Macbeth study guide provides pre-reading information and activities such as a synopsis, background and author information, and suggested pre-reading activities. For each Act of the play, there is a section dedicated to vocabulary, scrambled quotation, general questions, analysis, digging deeper and extra activities.   You can choose whether to print off the pages for your student or to allow them to work using the interactive option by entering answers directly into the guide.  At the end of the study, there is a section with writing projects that you can do in order to complete the study of Macbeth.  In addition, there is a page of Additional Resources that lists other plays and books by Shakespeare, as well as some videos.  I firmly believe in watching the videos because Macbeth was meant to be performed.  I feel that no study of Shakespeare's plays is complete without either reading it as a play or watching a performance of it.
My daughter is entering her 9th-grade year so I wanted her to start off by delving into some of the more difficult pieces of literature.    This Macbeth study guide is at a high school level so it was a good experience for her to see what is expected at that level of learning. We approached this study guide using it as exposure to higher levels of thinking concerning great works of literature.  She read Macbeth then went back and worked her way through the study guide.  Currently for her, this was a little more difficult than what she is accustomed so I allowed her to take it slower than what is suggested which is intended as an 8 to 10 week study.
Our experience with the Macbeth E-Guide was that it is an excellent resource for the study of Macbeth.  It not only allows for a better comprehension of the literature but also encourages the student to dig deeper into the literature and think critically.  I feel that you can use this study guide as part of a literature course for credit. As such, I suggest you consider selecting several of the study guides centered around a common learning goal.  For example, choosing a set of study guides of Shakespeare plays to develop a Shakespeare literature course.   Progeny Press has many options available to you and after my experience with this study guide, I feel that this would make a great class for high school credit.  One study guide appears to be worth about 1/4 credit so you can base your course on what you choose.  The answers are also included with the study which makes it easy for the work to be graded.  The study is set up so that there is no prep work needed by you as a parent.  There are no tests but you can easily take from the study guide and create your own as well as use some of the writing prompts provided and have a graded final essay.
Progeny Press has study guides for various grade levels from lower elementary through high school so there is something available for all ages.  If interested, I encourage you to check out what my peers have said about the study guides that we received to review (Macbeth, The Bears on Hemlock Mountain, Charlotte's Web, and The Silver Chair).
Social Media Links:
Facebook:  www.facebook.com/progenypress
Twitter:  www.twitter.com/progenypress
Instagram:  instagram.com/progenypress
Youtube:  https://www.youtube.com/user/ProgenyPress
Pinterest:  pinterest.com/progenypress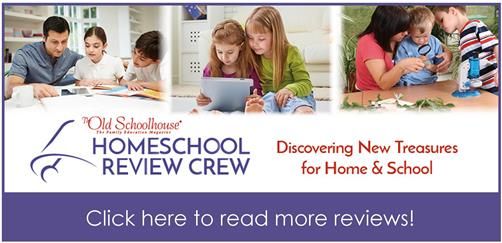 Leave a Reply
PLEASE NOTE: All comments will be moderated prior to being posted in blog.