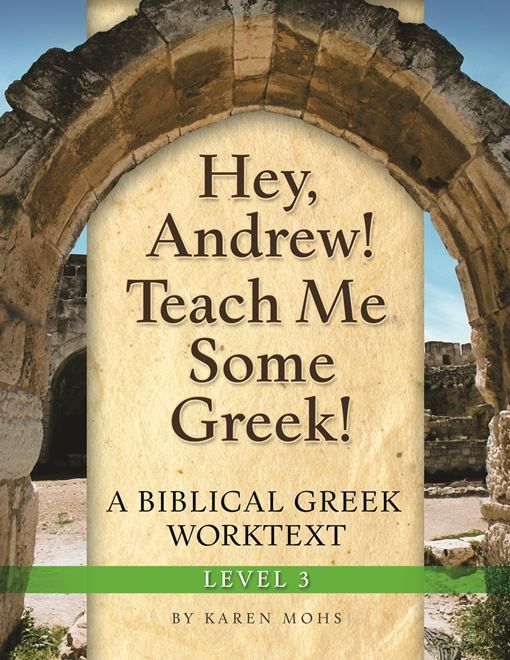 Hey, Andrew! Teach Me Some Greek! – Level 3 Set is a koine Greek language curriculum  by Greek 'n' Stuff which my daughter has been using since June. Common (koine ) Greek is not spoken today but was the language used in New Testament times which is useful for students wishing to read original Greek text or to learn Greek roots and English words which have been derived by them .  It can be used in sequence with other levels of the curriculum as well as being geared for older students beginning Greek.  Level 3 starts with learning Greek letters and slowing introduces vocabulary through weekly lessons.  We received a pronounciation CD , student workbook and answer book as part of the set.  Level 3 consists of 36 lessons which allows for a suggested schedule of a one page lesson per day or you can slow the lessons down and work at your own pace.  The curriculum has flash cards at back of workbook you can cut out to use for review as well as a helpful appendix.  Each textbook is consumable so each student needs their own book for the lessons.  The CD includes level 3 and 4 and begins with a song used to learn the  Greek alphabet and includes pronounciation for the vocabulary learned in the curriculum set.  Since common Greek is not a current language, it is a must have for learning how to say the Greek words properly.
My daughter (14 years old) was able to work through level 3 on her own with little intervention from me.  Although if you need it, there are teaching tips that come in handy for those who may need a  little extra help working through the curriculum.  Since I am not familar with the Greek language, I was impressed with how easy it is to work though this curriculum as a homeschool parent.
Using the CD along with the workbook, my daughter was able to start learning Greek with little to no prep work required.  If you are unfamilar with Greek, you start with learning 3 Greek letters per day.  My daughter extended that to working through them at a slower pace but that is the beauty of this curriculum being able to work at the pace you need for comprehension.  I also liked how the assignment sheet as seen below has a check area for working with flashcards.  The lessons include reviews, activities that promote both reading and writing tasks.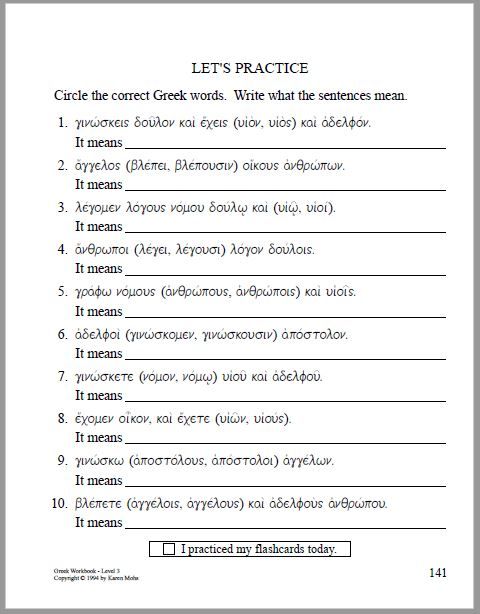 With 
Hey, Andrew! Teach Me Some Greek! – Level 3 
set , you can start learning Greek letters and words before proceeding to level 4 of the curriculum.  It is ideal for younger students and older students who have yet to start learning Greek.
You can learn more about Greek 'n' Stuff and their products through the following social media links as well as reading other reviews.
Social Media Links:
Facebook: https://www.facebook.com/GreeknStuff/
https://www.facebook.com/groups/heyandrewteachmesomegreek/
Twitter:     https://twitter.com/GreeknStuff       Tag: @GreeknStuff
Pinterest:   https://www.pinterest.com/kuriakos/greek-n-stuff/
Instagram: https://www.instagram.com/karenmohs/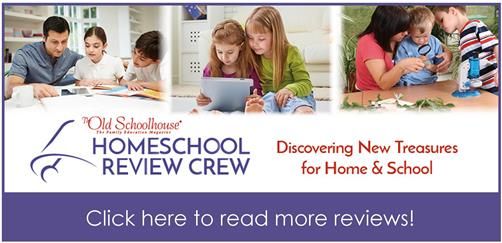 Leave a Reply
PLEASE NOTE: All comments will be moderated prior to being posted in blog.