Teaching writing in a homeschool environment can be a daunting task both for parents and children alike.  When your child reaches the high school years it can be particularly stressful. I have already had one daughter go through the high school years using products from 
Institute for Excellence in Writing
with success.  I was thrilled to be given the opportunity to use and review IEW's newest edition of 
High School Essay Intensive
  with my youngest who is now approaching 9th grade.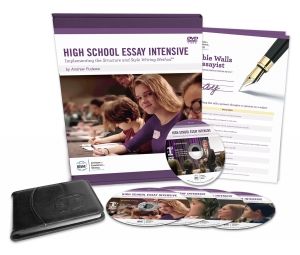 In a DVD course led by IEW's Andrew Pudewa, your student will learn basic essay writing and  prepare for the newest ACT and SAT essay writing sections.  Being in 9th grade in the coming Fall, I felt this was an ideal time to start preparing for high school level essay writing and to start developing the skills required to do well on the SAT and ACT tests.
The High School Essay Intensive contains 5 DVDs (6.5 hours), student handouts (28 pages), and a Portable Walls for the Essayist folder.  Throughout the course, your child will receive instruction on the basics of essay writing including writing tips such as text analysis, how to respond to prompts, as well as writing those personal essays that some colleges  require for their applications.
The 5 DVDs are broken out in the following sections:
Part 1A: General Strategies for Essay Writing: Length and Structure
Part 1B: General Strategies for Essay Writing: Invention and Style
Part 2: Understanding and Preparing for the New ACT® Essay
Part 3: Understanding and Preparing for the Redesigned SAT® Essay
Part 4: Strategies for the Personal Essay
Throughout the DVDs,  Andrew Pudewa is teaching this course to a group of students while using a white board as he instructs the class.  When it is time for your student to do any exercises, he tells you to pause the DVD while you complete it.  The handouts provide room to take notes as well as have the assignments written out so that you do not need to try to get that information directly from the DVDs.  The sections for note taking have the outlines of what is important in each section with space to fill in the details from the lecture.   For example, in part one there is a discussion of the general types of essays and in the handouts there is a corresponding place where it states "What are the general types of essays?"  and a list of each  type with enough space beside each one to write a brief description.  We really liked this because my daughter is just starting to learn how to take good notes and this helps her to develop this skill.  The Portable Walls for the Essayist is a wonderful resource that can be used beyond this course.  It sums up the types of essays, provides essay models and specific models for each type of essay as well as giving lists of transitional words and phrases in addition to a list of prepositions that can be referred to while in the writing process.
Since writing for my youngest is more of a chore rather than a task she enjoys doing, this course helps her to focus on learning what she needs in order to be successful in essay writing.   She was amused that Andrew Pudewa stated that he himself didnt enjoy writing.  It helped her to realize that sometimes there are things that we need to know and learn and not everything is all fun and games.
How we used this course:
While my daughter has not gone through the whole course at this time, we focused on the first part of the course which dealt with basic essay writing.  We liked that Andrew Pudewa teaches in a very relaxed and casual manner which is less intimidating to students, like my daughter, who are not particularly fond of writing.  My daughter watched the DVDs while taking notes in her handouts which made her feel like she was a member of the actual class.  Even if your student is not ready for the ACT or SAT, there is a lot to take away and learn from this course.  It is also a good idea to start early in preparing for the ACT and SAT.  My oldest didn't have much guidance before taking her first ACT. I feel that this course will not only help your students to be prepared but also help them in feeling more confident because they will approach the test with the knowledge and practice that is learned through High School Essay Intensive.
Institute for Excellence in Writing has always been one of my favorite vendors of choice for learning writing skills. I highly recommend checking out the following social media links for more information as well as reading what my fellow TOS Review Crew members also  had to say about  High School Essay Intensive.
Social Media Links:
Facebook: https://www.facebook.com/excellenceinwriting
YouTube: https://www.youtube.com/iewtv
Twitter: https://twitter.com/iew @IEW
Pinterest: https://www.pinterest.com/iewriting/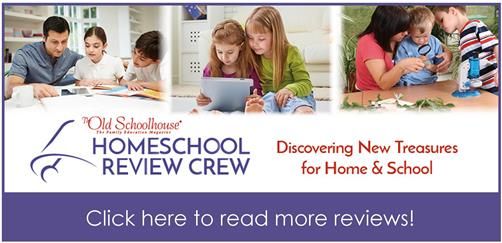 Leave a Reply
PLEASE NOTE: All comments will be moderated prior to being posted in blog.