Memoria Press
provides products for a classical Christian education.  When I was growing up the
Iliad
and the
Odyssey
were epic poems that we studied in high school world literature class.  They are what I consider some of the foundational pieces of Western literature and one of the many reasons I had my oldest read them in her high school years.  Now that my youngest is in 8th grade, I was thrilled to receive the 
Iliad & Odyssey Complete Set
 to use and review.  Having previously  just used commentaries along with reading the books, I was excited to be able to begin teaching the 
Iliad
using actual curriculum resources.
Both the Iliad Set  and the Odyssey Set contain the book (Odyssey or Iliad), the Student Guide, the Teacher Guide, and the DVD set.  If you are not familiar with either of these epic poems, you should know that each section is considered to be a book similar to how each section in a novel is divided into chapters.  I will refer to each section of these poems as books in this review.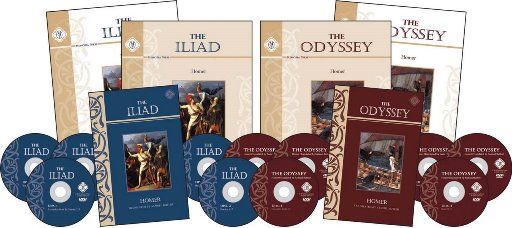 The Student Guide is designed to help your child to better comprehend what they read.  The guide has a section for  each  book which provides places and characters important for that book, comprehension questions, important quotations, and discussion questions.  An appendix also contains additional information useful to the comprehension of the epic poem. Items such as character references, terminology, alternate names for each character, as well as other useful information is included to aid your student in their understanding of the  text.
The Teacher Guide is set up to provide the background and teacher notes needed in teaching these epic poems.  In addition, copies of the student guide lessons along with answers, as well as the quizzes and tests are included.  As the teacher you are provided with pre-reading information to discuss with your student, essay prompts, discussion questions, areas to emphasize to your student to prepare them for the tests and a rich set of information to prepare your student when reading and discussing each poem.
The DVD set features Sean Brooks who teaches classical studies and Latin at the Highlands Latin School in Kentucky.  Each set contains an introduction to the poem and a lecture on each book of the poem.  He provides a decent summary of the book along with background and cultural information for that time period as well as noting several themes within the poem.
Since the guides are consumables and are intended to be used by one student due to copyright, Memoria Press also sells each guide separately from the set itself so you can have more than one child use this study.
We chose to start with the Iliad and at this time did not finish the study. Because the Iliad is different than modern literature, it tends to require more teacher direction especially with younger students like my daughter. Our approach to using these materials was slightly different than if I would have used them with my oldest daughter when she was in 10th and 11th grade.   I began by providing an introduction to the poem along with some background information.  We also discussed reasons to study the poems and what to expect from our study of it.  We then watched the introduction from the DVD set.  I did have her begin reading the first book but found she was struggling with her comprehension so I had her instead watch the lecture of the first book. This really helped her to be able to read the first book with better understanding since the language usage does take some adjustment and being aware of things to watch for while reading aids as well.  Prior to reading the first book, I also had her read through the student guide questions so that she could take notes as she read.  The teacher guide has some discussion questions and an essay prompt which we did after she completed reading the first book.  This is basically how we proceeded with subsequent books that she read.   We did not get to any of the tests since they cover more than one book at a time.  However I plan to go over the  key points that the teacher guide recommends to have the student mark in their study guide material which prepares them to study for each test.
Both Iliad and Odyssey sets have a recommended schedule which allows for the text to be read aloud.  I found that this is also helpful because you can discuss the material as it is being read and note important themes and topics along the way.  Memoria Press suggests that all of Homer can be completed in 18 weeks with the average of 4.5 hours per week.   As homeschoolers, I suggest to make note of your individual child's progression and work accordingly to get the most out of studying these epic poems.  The poems are rich in themes that focus on human nature which transcend the ages.  Spending the necessary time understanding and discussing the themes throughout both epic poems will be beneficial to future studies in literature and history for your child.
I would highly recommend both  the Iliad Set  and the Odyssey Set for learning these epic poems.  This curriculum well prepares you as the teacher as well as your student in the study of both the Iliad and the Odyssey.  I wish I had these prior to having my oldest read both poems.  I feel the materials are well laid out and provide more than enough information to do a complete study.  This curriculum can be used for 7th to 12th graders.  I also suggest that in addition to the material provided that you also use other sources for information to supplement what is included in this curriculum.  If your child has not previously studied mythology, I believe this will help when reading both the Iliad and the Odyssey. This is also recommended in the introduction section of the Teacher Guide.  I also liked how the instructional dvd lectures handle any material that might be a little mature for younger students such as discussing the idea of taking women as prizes during wartime.  Concepts are discussed but not gone into any detail that would be too mature for younger students seeing that Memoria Press offers classical Christian educational products.
The complete set of both the Iliad and Odyssey curriculum can be purchased for $135.  You also have the option to buy each set separately for $75.  Also note, if you are using this curriculum for more than one child you will need to purchase an additional student guide for each child.  Each  item in the sets are also available to be purchased separately.
To learn more about Memoria Press and their other products, I have social media links for you to explore.
Facebook: https://www.facebook.com/memoriapress/
Instagram:  https://www.instagram.com/memoriapress/
Twitter:  https://twitter.com/MemoriaPress  @MemoriaPress
Pinterest:  https://www.pinterest.com/memoriapress/
You can read more reviews on the Iliad and Odyssey complete sets as well as other products by Memoria Press that our crew members reviewed.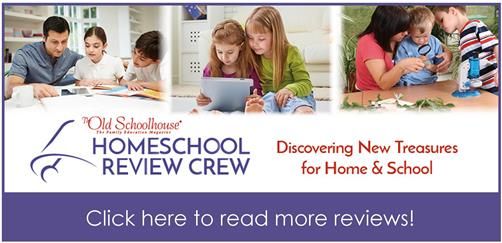 Leave a Reply
PLEASE NOTE: All comments will be moderated prior to being posted in blog.