Being an eclectic homeschooler, I was thrilled to get the opportunity to review the
Yearly Membership
from
SchoolhouseTeachers.com
. I received free access from SchoolhouseTeachers.com so that I can provide you with both my daughter's and my thoughts on their Yearly Membership.
Whether you are a new homeschooler or a veteran one I believe SchoolhouseTeachers.com has something for everyone. The Yearly Membership is an online subscription product that provides you with over 300 courses for pre-K through 12th grade.
It includes downloadable, printable elements as well as online courses and video components. In reality it is difficult to mention everything in this review about what SchoolhouseTeachers.com has to offer but I will touch on the main components and what we used so far.
Once you login, you can explore the various courses offered either by subject or grade level. There are also other resources available to you as a homeschool parent and your children. On the top menu, you have access to the following additional sections: planning, resources, video, media and tutorials. The planning section has items such as course information, lesson plans, scope and sequence, record keeping, and several others including one of my favorites – the Schoolhouse planners! Yes included in your membership you have access to downloads of Schoolhouse planners for both yourself and your kids. The planning section is a great place to explore to give you ideas and a method to start using your Yearly Membership. Under the resources section you will find items such as high school helps, special needs area, literacy center, courses for parents, monthly menus, TOS Magazine resources, certificate library, help charts and more. Another menu section is the media/videos library. Individual courses have links to media on their own but they are also included in this area as well. This area is basically a streaming video library from providers such as Drive Thru History, Creation.com and more. I am a big fan of Drive Thru History videos so that was exciting to see it included here. Also if you feel overwhelmed by all there is at SchoolhouseTeachers.com, there is a tutorial section with videos discussing the various resources available.
Whether you plan on using SchoolhouseTeachers.com as your primary resource or to supplement your own homeschool curriculum, it is a very easy to navigate and find what you need.
One thing I like is that most everything is available online with a few exceptions. Mainly these items are your own personal supplies as well as some courses may reference books or materials you can generally find at your library. Most of the classes are available indefinitely though sometimes there are guest teachers where the courses might be available for a limited time. That information is given up front. People from all over the world use SchoolhouseTeachers.com so you can use it whenever is convenient for you.
I started out by downloading a planner from the Schoolhouse planners area. I love this because there is so much included that I didn't really use all of it so you can easily customize. I print out the pages I want and use a 3 ring binder. I do this for my daughter as well. She is old enough to put hers together the way she likes it. I like to color code and use colored pens and markers to personalize it. For this review I let my daughter choose what she wanted to take as a course. She chose to select the Filmmaking elective. Going to the Filmmaking course, she could read how to use the course which also had an introduction. There was a component section which listed the lessons. This one has video instruction with assignments at the end of each video. I liked that it also tells you how long the course is and how much high school credit it could receive. This one lasts for 33 weeks and provides the student with one full academic credit. If you are starting to wonder about high school and how to do transcripts and set up courses, this is wonderful information. With my oldest, I had to figure this out on my own.
My daughter currently shares a YouTube channel and has been wanting to learn more so Filmmaking is a great course for her. She hasn't completed the course since she just started but she is enjoying the individual video lessons and is looking forward to incorporating what she learns into her own videos. While I was looking at all the available courses, she also noticed another course that she is interested in doing. I really love her being able to be involved in selecting courses of interest to her. It is so easy to do with SchoolhouseTeachers.com. For us we are using this as supplemental to our own curriculum. Since we don't already use the same curriculum for all our subjects, this is easy to do.
One thing that bears mentioning is that SchoolhouseTeachers.com has a Christian Worldview. They do state that some of their teachers may not share these beliefs but it is one thing you should be aware of if this is important to you. For us, this was an added benefit. To get more information, you can view their full statement of beliefs for yourself.
Interested in a membership that provides a lot for your homeschool family? Currently there is a sale that ends January 15th.
Join during SchoolhouseTeachers.com's Super Christmas Sale and Save!
Use Code: CHRISTMAS for $9.95/month or CHRISTMASYEAR for $90/year. (50% discount ends: 15 January 2017)
In mid-January, SchoolhouseTeachers.com is having a price increase. The promotion is to LOCK IN NOW at the $9.95/month rate so that you save 50% on the NEW prices. In about a week and a half this same monthly service will be $19.95/month–approximately twice as much!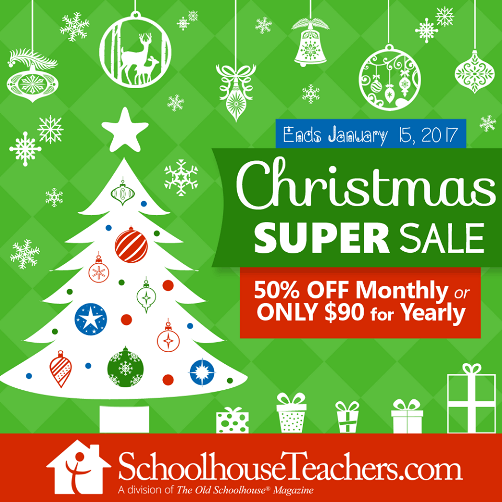 Remember that one price gives you access for your entire family! Another thing I love because I have looked at other internet resources that price based on access to individual family members for their courses.
SchoolhouseTeachers.com is a great resource for any homeschool family.  If you are interested in a subscription I highly recommend you take advantage of the savings and join before the price increases.
Please check out what my fellow Crew members also had to say about SchoolhouseTeachers.com!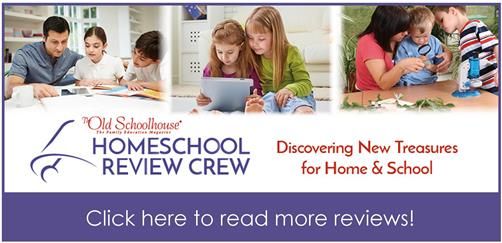 Leave a Reply
PLEASE NOTE: All comments will be moderated prior to being posted in blog.