As a homeschool family, I often wonder what to do about Physical Education, also known as Gym class. I know personally I don't get enough exercise myself, and I know I want my kids to have a better foundation in this area than I had while I was growing up. To tell the truth I really hated gym class. Of course when I was in school only the "athletes and the kids that sports came easy to" liked gym. I know one reason for me was that the teachers graded based on whether you could climb the rope to the ceiling of the auditorium, how many free throws you could make out of 40 shots, and if you could easily do overhand volleyball serves as well as other "chance" situations. I did not normally "perform" well at test time so I got average grades. I also often dreaded going to gym class since I did not really excel at any of the sports we did in class. As homeschoolers, it is often fairly expensive to have your kids enrolled in any sports available to homeschoolers. Also we don't necessarily want our kids to be in some of the sports where winning is more important than skill development and personal improvements. My kids were in softball and other sports and we even coached for their teams. I despised the attitudes and the politics involved. So, what is a homeschool family to do?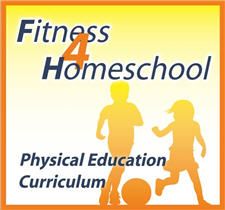 Well, Family Time Fitness might be the answer, if you, like our family, are looking for something to fit the need for a physical fitness curriculum.
Our family received the Fitness 4 Homeschool curriculum, Core 1 for children ages 5-13. In actuality, we found it was apporpriate (and fun) for our whole family!
What you receive with Fitness 4 Homeschool curriculum:
a startup guide,
 PDF lesson plans,
video demonstrations,
assessment tools,
reminder emails,
 lifetime curriculum and video updates,
access to online webinars and certificates of completion.
What do you get out of the program itself:
260 planned lessons that are well-balanced and require little preparatory work on your part with only a small investment in equipment.
Easy to follow and flexible (very customizable to your needs)
planned for 3 to 4 days a week with 30 to 45 minutes each day
a well-developed set of lessons designed to "maximize the benefits of spatial awareness, body awareness, environmental awareness, enhanced neurological development, mind-body coordination, stress reduction, social engagement, poise and confidence."
Each lesson contains : Warm Ups,  Activity/Game Play,  Cool Down exercises, and an Outdoor Activity
You can view a PDF of the scope and sequence here!
How we used the program:
Starting off we took it a little easier at first by only doing 2 times a week.   I read through the current lesson we would be doing the night before so that we could make sure we had the equipment we needed ready for the next day.  I made sure I understood each of the activities we would be doing and viewed the associated videos to ensure we knew how do each of them correctly.   At times we did change some of what we did which made this program very easy to use and flexible for our family.   Rainy days, we of course could not do some  of the outdoor activities.  What I liked was that I did not need to figure out what activities and exercises would work all the areas of the body as well as the types of things that would be a well-balanced approach to physical fitness.  It was all set up for me through this program.  I really liked that once I read through each lesson and watched the videos, I could print out a one day plan which saved me from printing off a lot of papers to keep track of while we worked out together.
For one low payment of $57 you get a lifetime access to the program as well as to any updates that are made.  You really can't get that from any health club or sports program.  Also, you are getting an entire workout for you and your kids from  the Fitness 4 Homeschool Package.  You can purchase yours on the Family Time Fitness website HERE.
Family Time Fitness also has other programs for you and your family that you can check out on their website.
I plan on checking out their High School program after we go through the Fitness 4 Homeschool – Core 1 program our family received to review.
If you would like to learn more about what other TOS Crew members had to say about Family Time Fitness's  Fitness 4 Homeschool – Core 1 program, please check out the link below for more reviews and information.

Disclaimer: I received free the  Fitness 4 Homeschool – Core 1 program in order to provide my honest review of it for my readers as a member of the TOS Homeschool Crew. All opinions are my own.
Leave a Reply
PLEASE NOTE: All comments will be moderated prior to being posted in blog.