Everyday Homemaking provides practical gems for homemaking and homeschooling for your family.   The Molly Crew review team was provided one of two e-books to review for our readers.  The book I received was Everyday Cooking by Vicki Bentley.   This book is the first in the Everyday Homemaking series.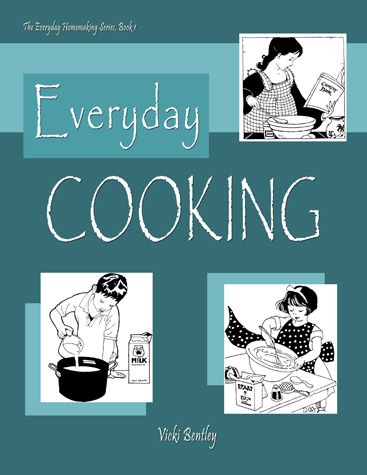 True story!  I grew up with a Mom who didn't really like to cook but for some reason loved collecting cookbooks.  On the other hand, I actually love to cook but really have never found too many cookbooks I felt I liked too well.   I frequently will go to the library and check cookbooks out; however few of these cookbooks rarely contain any recipes in them that are really worth much to me  Normally, my cooking involves me thinking up my own ideas and then throwing together  things that might pop into my mind.  They turn out well but sometimes I just would like to be a little more prepared than needing to be spontaneous.   In addition, I am trying to teach my daughters how to cook for themselves which really needs to start with decent, reliable, easy to use recipes.
Ok.  So where am I going with this ?  From the minute I browsed through Everyday Cooking, I realized that finally here was a cookbook that was altogether sensible, helpful, and contained easy to make and delicious recipes.   Though I admit I have not made all the the recipes in it, I have tried out several and I am starting to use it as a basis for a home ec class I am having my daughters do this school year.
I can tell you that my kids and husband really enjoyed the fudge we made.  Chocolate of course.  Also, I used the taco seasoning mix to add to tuna to make a delicious sandwich spread.  I also appreciated the time-saving and budget-stretching tips that you can find throughout the book.   I always have the best intentions of  preparing foods in advance and making recipes in bulk so I can save time and money but I never seem to do too well in that area.   Everyday Cooking has a lot of great tips that I have started using for our family and think that others will find useful too.
Everyday Cooking contains not only recipes that are simple and emphasize whole foods for a healthier living but various helpful  tips.
The cookbook recipes are divided into the following  4 categories:
Appetizers & Dressings
Breads & Grains
Main Dishes & Soups & Sides
Desserts & Snacks
There are also sections with breakfast ideas,  time-saving tips,  basic measurements,  meal planning and shopping tips, advice on kitchen equipment, suggested resource lists and much more information than you would even think of discovering within a cookbook.
You can go to the the Everyday Cooking product page and find links to view sample pages as well as sample recipes from Everyday Cooking.   You can also purchase your own copy of Everyday Cooking
(100 pages; coil-bound glossy cover.) on the product page  for $17.99 or as an e-book for $14,99 here.
I really enjoyed the privilege of reviewing Everyday Cooking .  You can also find out what other review members thought about Everyday Cooking as well as The Everyday Family Chore System book by clicking here
Disclaimer: I received the e-book, Everyday Cooking for free in order to provide my honest review of it for my readers as a member of the Molly Review Crew. All opinions are my own.
Leave a Reply
PLEASE NOTE: All comments will be moderated prior to being posted in blog.