Christian Liberty Press is the publishing division of the Christian Liberty Academy School System. Founded over 25 years ago, its purpose is to provide quality educational materials for a Christian-centered curriculum.
One of the publications from Christian Liberty Press is a 4 book series geared for grades 7th through 10th called Mr. Pipes.  The series is written by a Washington State Christian High School teacher, Douglas Bond.  As a member of the TOS Homeschool Crew I received the first book of this series, Mr. Pipes and the British Hymn Makers  in PDF format.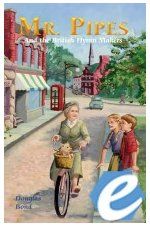 A brief description of Mr. Pipes and the British Hymn Makers from the Christian Liberty Press website is as follows:
"This first book in the series by Douglas Bond tells the story of two teens who, while on vacation in England, are befriended by an elderly English gentlemen called Mr. Pipes. Through this relationship they learn about famous British hymn writers. They also learn about the value of traditional worship and praise."
As a Christian one of my pet peeves about the modern church is that we do not spend enough time worshiping God. Most people go to church on Sunday and listen to hymns and Christian songs as if they are going to a concert to be entertained. Very few anymore truly take the time singing to God and revering Him in order to enter into His presence. One thing I liked about the book, Mr. Pipes and the British Hymn Makers is that it focuses on learning about the great hymn makers and in the process hopefully encourages our young people to embrace the worship of God in a more meaningful and genuine way.
This 242 page book begins by introducing the reader to Mr Pipes who is an English gentlemen that the two teens of the story discover while exploring an old church. In subsequent chapters, the reader learns about various hymn makers such as Thomas Ken, Isaac Watts, and Charles Wesley, just to name a few, in the course of reading the story.  There are a total of twelve chapters followed by a further reading section which lists other resources for the reader to research more on their own. At the end of each chapter there are musical scores by the hymn maker that was introduced in that chapter.
Rather than just learning the biography of a hymn maker and the history behind the hymns in a text book like manner, Mr. Pipes and the British Hymn Makers, brings to life the factual information using a fictional storyline. In this way, I believe the reader can learn and retain more of the information because it is presented in a more exciting format. The material  has the potential to become more alive to its readers since we can relate to the relationship between the teens and Mr. Pipes and get drawn into the story ourselves.
How our family used this book, at this time, was to simply enjoy the story. Mainly because my children and I are getting ready to start our new "school year" and just casually doing "school" over the summer. I plan on going back and using Mr. Pipes and the British Hymn Makers as part of our music and Bible lessons for this upcoming year. We will take more time going over each chapter individually and discussing it further by using the suggested reading references at the back of this book as well as doing further research on our own.
At this time, The Mr. Pipes series can be purchased as a complete set at $38.99 or each individual book in the series can be bought for $9.89 in printed form or as a PDF for $8.79  on their website.
When you go to the product page for each of the books in the series, you can choose to view an inside look at that particular book.
Although the books are written with 7th through 10th graders in mind, I felt that younger children can also enjoy this book series too.
If you are interested in learning more about the great Christian hymns and who wrote them, as well as cultivating a love of worship toward our Creator, then perhaps the Mr. Pipes series may be in your future.
While you are thinking about the Mr. Pipes series, be sure to check out the other offerings from the Christian Liberty Press website.
If you would like to learn more about what other TOS Crew members had to say about the book, Mr. Pipes and the British Hymn Makers, please check out the link below for more reviews and information.

Disclaimer: I received the (PDF) book, Mr. Pipes and the British Hymn Makers for free in order to provide my honest review of it for my readers as a member of the TOS Homeschool Crew. All opinions are my own.
Leave a Reply
PLEASE NOTE: All comments will be moderated prior to being posted in blog.