In college, I was introduced to apologetics. The church I was attending decided to study C.S. Lewis's book, Mere Christianity. What is "apologetics" you may ask?
Webster dictionary defines apologetics as "That branch of theology which defends the Holy Scriptures, and sets forth the evidence of their divine authority."
"Apologia" is the root of the word and in Greek it means ""to give a defense."
In the Bible, we as Christians are told in 1 Peter 3:15 (ESV) "in your hearts honor Christ the Lord as holy, always being prepared to make a defense to anyone who asks you for a reason for the hope that is in you; yet do it with gentleness and respect,"
So as Christians, it is very important to know what and why you believe in Christ and God's Word. Recently, I came to realize that we as Christians (myself included) really do not possess a complete knowledge of what we believe, or even a decent ability to defend it. I realize that if I feel so strongly about this, I need to ensure that I am prepared as well as my children.
I recently received the book, I Don't Have Enough Faith To Be An Atheist by Norman L. Geisler and Frank Turek published by Apologia Press as well as the accompanying workbook (curriculum). The workbook is actually written by Frank Turek and Chuck Winter.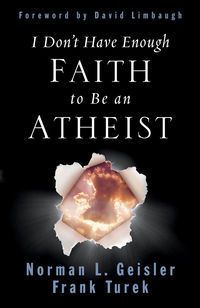 The book, I Don't Have Enough Faith To Be An Atheist, is 447 pages in duration and retails at $16.00 as a paperback copy. It is a book for anyone who either wants to prepare themselves to defend their faith or even just to strengthen their own faith. It can equally be read by anyone who is a skeptic of Christianity and wants to learn more about what makes it tick.
The Apologia website states the following description of this book as follows:
To some, the concept of having faith in a higher power or a set of religious beliefs is nonsensical. Indeed, many view religion in general, and Christianity in particular, as unfounded and unreasonable. Norman Geisler and Frank Turek argue, however, that Christianity is not only more reasonable than all other belief systems, but is indeed more rational than unbelief itself. With conviction and clear thinking, Geisler and Turek guide readers through some of the traditional, tested arguments for the existence of a creator God. They move into an examination of the source of morality and the reliability of the New Testament accounts concerning Jesus. The final section of the book deals with a detailed investigation of the claims of Christ. This volume will be an interesting read for those skeptical about Christianity, as well as a helpful resource for Christians seeking to articulate a more sophisticated defense of their faith.
I felt that this book was very easy to read even though it delves into some very deep and profound discussions that one has when studying any material cited as apologetics.    You can get a sample chapter of the book in PDF format on the Apologia website's product page for the book.     You  can also get the table of contents too in PDF format on the same page.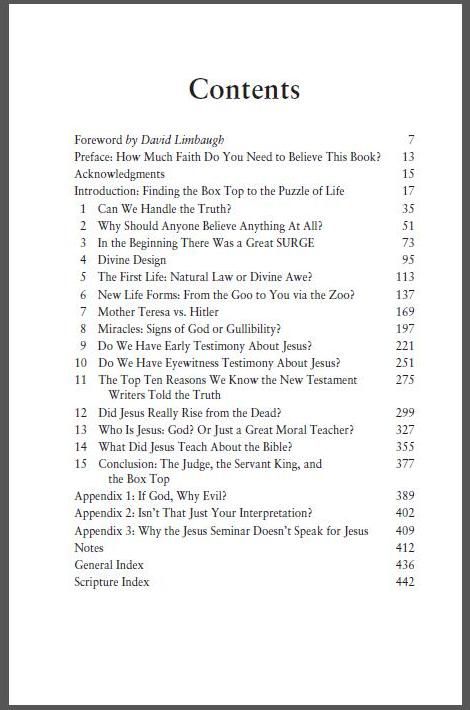 I really liked how the book is set up for the reader.  There is an outline at the beginning of a group of chapters that gives you the big picture of what the following chapters will cover so that you can better focus on what you are going to read.  In addition, the book  also provides summaries and conclusions  for you at the end of chapters.   Directed toward high schoolers but also very valuable reading for adults as well,  I Don't Have Enough Faith To Be An Atheist guides the reader through an examination of the Christian faith and challenges its reader to examine their own beliefs as well.
The 279 page long spiral bound workbook, I Don't Have Enough Faith To Be An Atheist Curriculum,
provides you with supplemental material, study questions, and activities to aid you in your own personal reflection in addition to helping you increase your writing skills.    It is suggested that you set aside two to three weeks for reading each chapter of the book and completing the associated section of the workbook in order to get the most out of the materials.  I also believe the workbook is well presented and is a valuable resource in addition to the book itself.  The I Don't Have Enough Faith To Be An Atheist Curriculum workbook can be purchased for $33.00 on the Apologia Press product page. For a better idea of what the workbook is about you can view a PDF sample chapter HERE. You can also view the table of contents HERE in PDF format too. In the workbook, you are given a website link and a password to access the answers for the workbook. There are also chapter tests that you can use either to make this into a grade-able course for your high school student or to help to identify how much you have comprehended out of each chapter. My high school student started reading and going through the workbook and has really enjoyed the material presented to her. She also commented to me that some of what she read really connected with what she had learned in her teen church group as well as the material she has learned in the past through her Bible quizzing team. I really liked hearing that I Don't Have Enough Faith To Be An Atheist has not only pushed her to learn more but has reinforced what she has already learned as well as studied on her own.
If you would like to learn more about what other TOS Crew members had to say about the book, I Don't Have Enough Faith To Be An Atheist, as well as the accompanying workbook curriculum, please check out the link below for more reviews and information.

Disclaimer: I received the book, I Don't Have Enough Faith To Be An Atheist, as well as the accompanying workbook for free in order to provide my honest review of it for my readers as a member of the TOS Homeschool Crew. All opinions are my own.
Leave a Reply
PLEASE NOTE: All comments will be moderated prior to being posted in blog.