Hewitt Homeschooling has Literature and Composition guides for Junior and High School students that use full-length novels, autobiographies, plays, essays, short stories, and poems to teach deep reading and composition skills.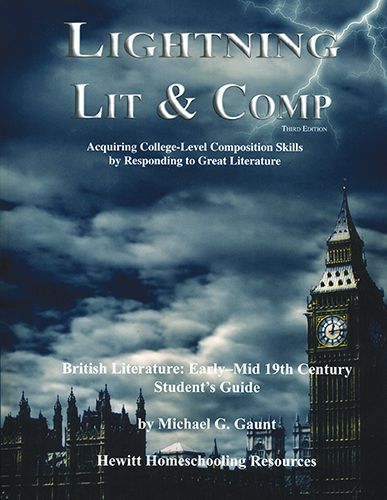 This Summer we chose to continue to homeschool to work on some areas that we did not over through our normal school year.  One of the subjects we wanted to do more of was literature and writing.  The Crew was given the opportunity to review some of the products from Hewitt Homeschooling which was a blessing to us.  We chose to review the Lightening Literature & Composition Guide for  British: Early to Mid 19th Century. 
What we received was the associated student and teacher guide but we had to provide the individual novels which were easily obtained from our library since we chose not to purchase them.  The first book in the guide was Jane Austen's Pride and Prejudice which I happened to already have received for free in e-book format.  The guide itself also includes some of the reading selections such as poetry and essays.   The other books studied within this guide are Frankenstein, Jane Eyre,  and Ivanhoe.
The student guide covers the following literature:
William Blake (selected poems; text in this Guide)
Jane Austen (novel: Pride and Prejudice)
Sir Walter Scott (novel: Ivanhoe)
Thomas Carlyle ("Essay on Scott," text in this Guide)
Samuel Taylor Coleridge, William Wordsworth, Lord Byron, Percy Bysshe Shelley (selected poems; text in this Guide)
Mary Shelley (novel: Frankenstein)
Charlotte Bronte (novel: Jane Eyre)
William Makepeace Thackeray ("Rebecca and Rowena," text in this Guide)
According to the Hewitt Homeschooling website, the following is the description of the guide.
"Lessons cover description, point of view, persuasive writing, setting, humor, character, and imagery and tone in poetry. The Student's Guide includes information about the authors, comprehension questions, writing exercises, discussion questions, reading lists appropriate to the period or subject, semester and full-year schedules, and a bibliography. The answers to comprehension questions are in the Teacher's Guide (see Related items below). Book-length works are sold separately and in a pack with the guides (see Related Items below)."
The Teacher guide covers " the answers to comprehension questions. It also provides a teaching schedule, teaching and grading aids, and a copy of the writing exercises and discussion questions for the teacher's convenience."
Each of the eight lessons included in this study are divided up into the following sections:
A short biography of the author and a description of teh reading selection with areas to focus on during reading the selection.
A comprehension questions
A literary lesson
Writing exercises.
What we found that we liked about this guide was that the student text leads your child through a study of each literary selection while learning literary lessons such as tone, persuasive writing, writing using "different persons", using humor as well as other methods and literary devices.   In addition your child will also focus on writing exercises of their choice.  As the parent/teacher, the teacher guide provides you with answers to the comprehension questions which are useful in helping your child learn to develop their reader comprehension skills and to critically think when reading various selections of literature.  My daughter and I found British: Early to Mid 19th Century guide to be a very comprehension study of the period's literature in addition to an aid to developing critical analysis and composition skills.
What I liked is that the literature and composition guide could easily be taught along with a historical study of the associated period for a very well-rounded course study.  The lessons are well written and clear so that your child can do this study independently.   The teacher guide makes it very easy for you as the parent to grade the work and gauge how well your child is doing throughout the lessons.  There are various tips and ideas throughout the materials so that you as a parent do not need to be an expert in literature or writing in order to use Lightning Literature in your homeschool.  Both my daughter and I have enjoyed using the Lightning Literature curriculum.  It is flexible enough to be able to schedule over one semester or over a full year.  In addition to the main material covered, there are additional suggestions for further comprehension questions as well as project  and activity ideas to extend your study.
The British Literature: early -Mid Century guide is suggested for  9th through 12th grades.
You can view more details about this specific Lightning Lit & Comp student guide on the Hewitt Homeschooling website HERE where there are links to view samples of the student guide.  For samples of the contents of the teacher guide you can go HERE.
You can purchase the Lightning Literature and Composition Pack of British: Early to Mid 19th Century for $48.39 which includes the student and teacher guides as well as the four books that the student will read for this curriculum.
You can also choose to purchase the individual items separately from the Hewitt Homeschooling website.
Be sure to check out what my fellow Crew members had to say about the different Lightning Literature and Composition selections as well as several other products that we reviewed ( The Joy of Discovery, and Learning Objectives for Grades K-8, and  State Chronicles ).

Disclaimer: I received the Lightning Literature and Composition – British: Early to Mid 19th Century student and teacher guides from Hewitt Homeschooling  for free in order to provide my honest review of it for my readers as a member of the TOS Homeschool Crew All opinions are my own.
Leave a Reply
PLEASE NOTE: All comments will be moderated prior to being posted in blog.