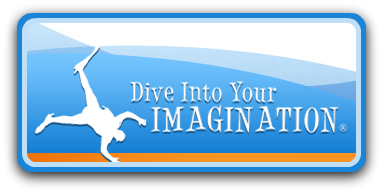 According to the Dive Into Your Imagination website:
"Annie Crawley created Dive Into Your Imagination to change the way a new generation views the ocean.
As a full-service production company, they can fulfill your organizations multi-media needs through photography, video and editing, producing and writing. Dive Into Your Imagination specializes in everything Ocean!"
Their store contains many different products including but not limited to fine prints, coloring pages,  books, and DVDs. Different members of out TOS Homeschool Crew were given the opportunity to review one of the following DVDs from the Dive Into Your Imagination series: What Makes A Fish, A Fish, Who Lives In the Sea?, or Dive Into Diversity.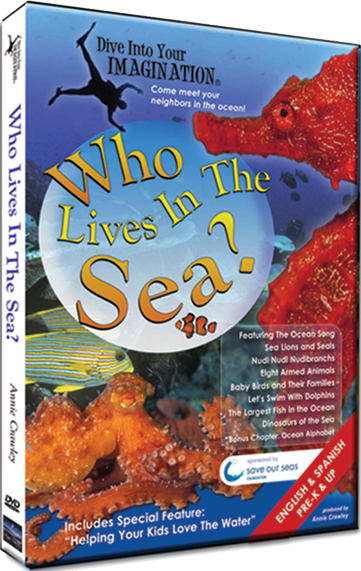 I was provided with the Who Lives in the Sea? DVD to review.
"The Award Winning "Who Lives In the Sea?" teaches children and their parents about animals living in the ocean. Why do dolphins move so fast? What kind of noise does a sea lion make? Did you know turtles walked with the dinosaurs? Meet whale sharks, octopus and blue-footed booby birds! After your kids watch this DVD, they will want to swim like a dolphin and laugh at the nudi, nudi, nudibranchs!"
This particular DVD has a runtime of 45 minutes, able to be viewed in English or Spanish, and features information on dolphins, sea lions and seals, nudibranches, whale sharks, baby birds, eight armed animals, and turtles. There is a section at the end of the DVD which goes through the alphabet and shows various things associated with the ocean for each letter.
The DVD contains 8 short chapters and a couple of bonus tracks explaining scuba diving and production.  The DVD provides you the  ability to watch just individual chapters or  play the entire DVD at once. It is geared toward pre-K through 3rd grade and can even be enjoyed by older children and adults. The music and imagery is absolutely incredible not too mention what you can learn about the ocean.
I was also given the PDF educator  guides that go along with the DVD.  There is an educator guide for  grades pre-K and K and another for 1st through 3rd graders.  Each guide has a section of materials that correspond to each chapter on the DVD.  While the DVD itself is breathtaking and has some educational content, the educator guides provide much more than is contained in the DVD itself.  My 3rd grader found the DVD to be wonderful yet still geared toward younger kids as far as content.  However the guide itself is more like a unit study based upon the materials in the DVD.    There are complete lesson plans with hands on activities, worksheets and additional information to learn.  I found the educator guides to be directed toward learning in a classroom setting but still very adaptable by homeschool families.
Each of the DVDs in the Dive Into Your Imagination series is available for $19.95 on their website. 
The Educator Guides are available as a printed version for $299 (for the set of two grade level guides pertaining to each DVD) or as individual PDFs for $69.95.   With well over 300 pages of lesson plans to make each DVD a very complete study, the guides themselves still may seem a bit expensive for homeschool families.  However Dive Into Your Imagination has an incredible offer to homeschool families to make these guides and DVDs more affordable.   Especially for homeschool families,  Annie Crawley (of Dive Into Your Imagination) will provide a FREE set of PDFs with purchase of the DVDs!   When you place your DVD order, just include in the notes that you are a Homeschool Parent.  In addition, for the entire month of May and June, there will be free shipping with any order placed at www.AnnieCrawley.com/store
Visit the  Dive Into Your Imagination website so you can view some of the footage that is on the various  DVDs as well as see what other things they have to offer you.
I suggest you check out what some of my fellow Crew members had to say about the Dive Into Imagination DVDs and educator  guides  on our TOS Crew blog .
Disclaimer: I was provided a free copy of the Who Lives in the Sea? DVD and educator guides  in order to provide my honest review of it for my readers  as a member of the TOS Homeschool Crew   All opinions are my own.
Leave a Reply
PLEASE NOTE: All comments will be moderated prior to being posted in blog.