Whether or not you aspire to be an author, a journalist or to work in other careers that focus mostly on writing skills, writing is a necessary skill to possess.  Possibly why it is included in one of the 3 Rs of education.  You know: reading, writing and arithmetic.  I often hear homeschoolers torment over their choices of curriculum in that area.  So many kids are adverse to writing and have difficulty learning it, that there is no wonder there are so many writing programs out there for you to choose from.   As a member of the TOS Homeschool Crew I was selected to review the Junior Level Book D program from WriteShop.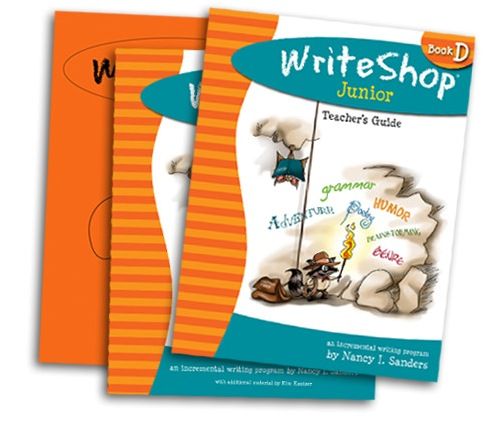 WriteShop is an incremental writing program which means that each lesson builds upon each other.   Its goal is to create a firm foundation of writing skills so that your child can have the confidence and skill as a writer.   The WriteShop website describes what the authors, who were  homeschool moms themselves, were looking for as  criteria for a writing program:
emphasized clarity, conciseness, colorful vocabulary, and interesting sentence types;
focused on developing a strong paragraph;
offered a wide variety of writing activities;
helped students know exactly what to look for when refining their own work;
helped parents know how to methodically evaluate their children's writing.
Prior to developing WriteShop these two women were planning to teach a writing class to a small group of homeschoolers.  In their search to fulfill those requirements , they discovered that there was no current curriculum that met those needs for their class so creating WriteShop was their solution.
I will be discussing only the Junior level Book D program of WriteShop.  Since WriteShop has different levels of their writing curriculum  as well as other products, I suggest you learn more  about them on their website.  For now let's talk about the Junior Book D  from their program.
I received the Junior level Book D program that is appropriate for  3rd, 4th, or reluctant 5th graders.    This level of the  program includes  the teacher's guide, an activity pack and a time-saver pack.   The activity pack includes both the Student Worksheet Pack and the Level 1 Fold-N-Go Grammar Pack which are needed to complete each lesson.  The teacher guide is the heart of the system because it provides you with clear and concise instructions for the program with how to teach it,  evaluate your kids' work   as well as help your kids edit their work.  It was very easy to implement with very little teacher prep work required.   The WriteShop website has a support section with various articles, FAQs, a forum and other resources available  to help you out in addition to what you have from the teacher book..   The teacher guide provides you with a schedule  for both a 3 and 2 week plan so that you can choose what best works for you and your kids which will allow you to finish the book in either 30 or 20 weeks.
I found this to be a very user-friendly writing program and one that my daughter enjoys.    I really appreciate a  curriculum that does not require me to be the expert and that is easy to implement.  I tend to get frustrated when I have to take a lot of time just to understand what I need to do as the teacher and then how to present things to my kids.  With WriteShop I could basically just pick it up and go from day one.  You have some prep work but it was relatively easy for me .    My daughter  now often asks to work with WriteShop before I have to tell her to get it out for the day.   This program mixes fun graphics, games as well as hands on visual aids through the program.  When we started working on learning to write letters of invitations, we played a game putting together the different parts of a letter such as the greeting, salutation, body, etc in order to learn the various sections of a well written letter.  It was such a simple game but one which combined visual and hands on learning along with what you normally find within a typical workbook or textbook.  My daughter asked to play the game several times and after a short time she really understood the parts of a letter and was able to move on to write many of her own with little difficulty.  The  fold-n-go grammar file folder we put together in one of the first lessons helped to bring home the rules of  punctuation for my daughter as well.  Even though WriteShop is not a full language arts program,  I feel that your child will still be exposed to some grammar,vocabulary, spelling, and punctuation so that it will incorporate well with whatever other program you may be using.
I mentioned the activity pack contains both the Student pack and the Fold-N-Go Grammar Pack.  The student worksheets come as tear out pages.  The WriteShop website states that it contains "60 activity pages your child will use to complete portions of each lesson. Games, word banks, worksheets, and graphic organizers introduce children to lifelong writing skills such as brainstorming and self-editing."
The Fold-N-Go-Grammar Pack, according to the website,  has you "make 10 grammar and writing guides, each devoted to a different skill. Simple rules, engaging examples, and practice exercises make learning or reviewing grammar fun! By the end of Level 1, your child will have his own set of portable reference folders."  The pages are printed on colored paper so you will probably want to buy an extra set for each child to use.  The photocopying policy allows you to reproduce worksheet pages and evaluation charts for single-family use only.  Co-ops and other groups need to contact  WriteShop for educational discounts and site-licensing information.
The Activity pack is basically the student book for the program and is  made to go along with the teacher book so you really need to purchase both in order to implement this curriculum.    The Fold-N-Go-Grammar Pack which is contained with the Activity pack can be used as standalone since it is the portion of the product where you are making grammar guides to use along with your lessons.   I think these grammar guides will be a great tool for your child even after he or she completes the program and has moved on to something else.
I also received the Time-Saver pack which is an optional item to purchase but I think it really is worth getting.  It definitely saves time and makes it easier on you as the teacher. Described as  a tool to "cut your advance prep time! Instead of making your own game cards, spinners, and other tools to teach creative writing, you'll appreciate the Time-Saver Pack's sturdy, ready-made props for many Book D activities."  After working with my child using WriteShop,  I wholeheartedly agree with this assessment of the Time-Saver pack.

Summing it all up, the Junior Level Book D program teaches and prepares your child  so that he or she learns the various stages of writing such as brainstorming, organizing , writing and editing his or her work.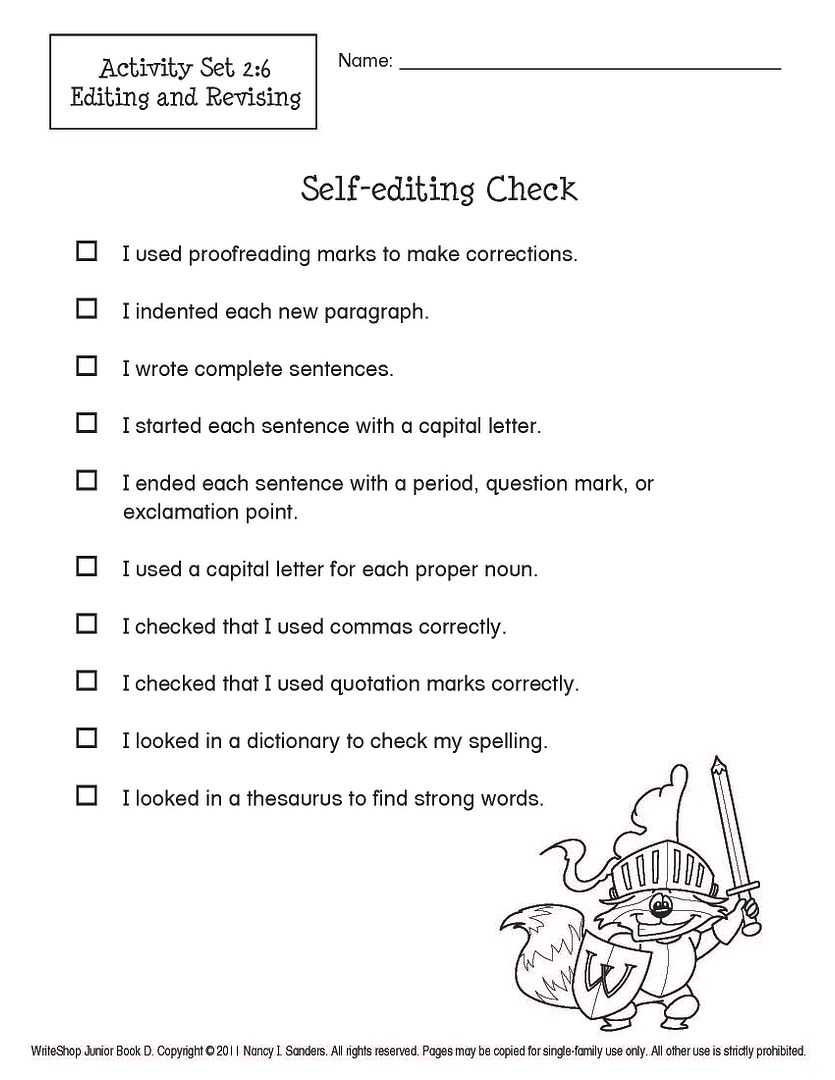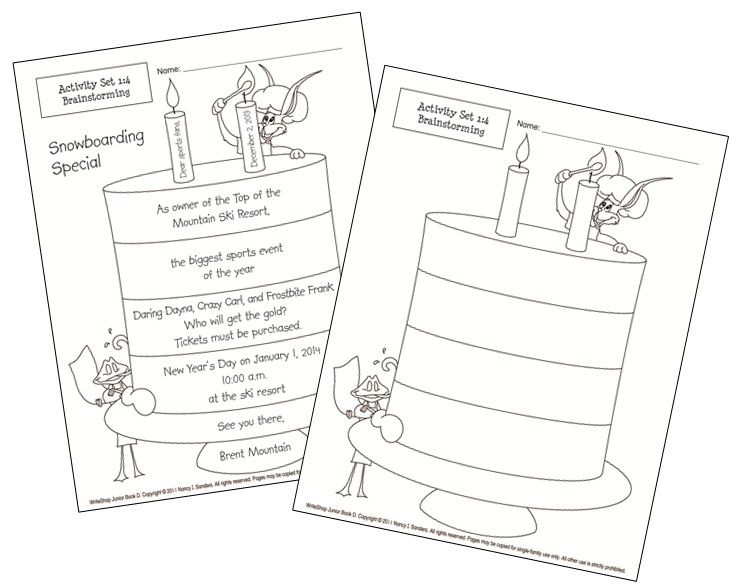 I remember learning this much later in my school years and think the  elementary years are a great time to learn these skill sets along with grammar and punctuation rules.
You can go HERE to download samples of the Junior Level D as well as the other writing levels.
We are still using this curriculum and plan to continue because my daughter is not only enjoying it but is definitely learning a lot from it as well.  The program contains a good mix of different writing activities that keep it interesting as well as being a  less stressful and a very  approachable way for your child to develop their writing skills.
From the WriteShop website, the Junior Level  Book D contains and teaches  the following:
Table of Contents
Letter of Invitation
Humor
Adventure
Science Fiction
Mystery
Poetry/Haiku
Folktales
Historical Fiction
Personal Narrative
Expository Writing: Factual Article
Skills Introduced in Book D
Identify and use proper grammar and punctuation
Narrow a broad topic to a specific topic
Brainstorm before writing
Structure a sentence
Write a paragraph
Choose strong words instead of weak ones
Use emotion words to develop voice
Use the five senses to add descriptive detail
Self-edit and revise their work
I have been really impressed with what we have seen and used with Write Shop.  Whether you have children who are reluctant or struggling writers or ones that love to write,  this program may be worth looking into for your family.
You can purchase Write Shop's Junior Book D components in either e-book or print versions as follows:
WriteShop Junior Book D (Teacher's Guide) – Print Edition:   $39.95
WriteShop Junior Book D (Teacher's Guide) – eBook Edition:  $34.95
WriteShop Junior Activity Pack, Book D – Print Edition:   $39.95
WriteShop Junior Activity Pack, Book D – eBook Edition:   $29.95
The time-saver pack is optional for the program  and the Fold-N-Go  Grammar can be purchased separately outside of the Activity Pack if you need an extra one or would like to use it as a standalone product)
WriteShop Junior Book D Time-Saver Pack (both versions):  $13.95
Level 1 Fold-N-GoTM Grammar Print Edition:  $19.95
Level 1 Fold-N-GoTM Grammar eBook Edition:  $11.95
Graciously provided by WriteShop for my blog readers!  15% off any WriteShop Primary and Junior products in the WriteShop store (including e-books) using coupon code CREW15 at checkout. Offer valid through June 15, 2012.
I suggest you check out what some of my fellow Crew members had to say about the various WriteShop products on our TOS Crew blog.
Disclaimer: I was provided  free copy of the WriteShop Junior level Book D products  I mentioned in order to provide my honest review of it for my readers  as a member of the TOS Homeschool Crew   All opinions are my own.
Leave a Reply
PLEASE NOTE: All comments will be moderated prior to being posted in blog.