Library & Educational Services, a Wholesale Supplier of Wholesome, Educational Books, DVDs, CDs, and more, has a wide selection of products as well great prices.  I have purchased from them and was very pleased with both the price and shipment of my selections.  They sell to
• Resellers
• Libraries
• Schools
• Churches
• Home Educators
• Missionaries
Library & Educational Services has provided me with two of the DVDs from the Go Science DVD series. The Go Science series is comprised of 6 individual DVDs with a total of 67 science experiments between them which are presented by Ben Roy.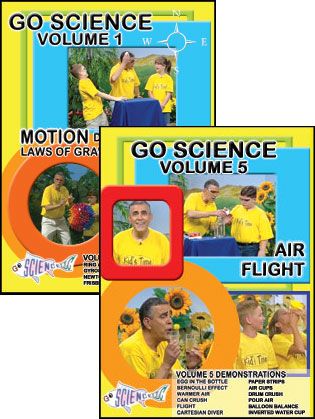 My family received both volume 3 (Magnetism, Engineering, Electricity, and Design)  and volume 4 (Chemistry, States of Matter, and Life Sciences) to review as a member of the TOS Crew.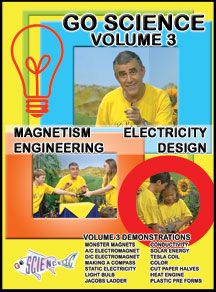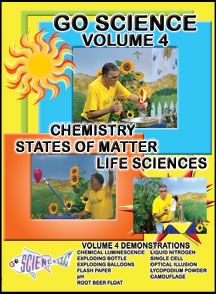 Each of the titles has a different running time and the ones we got had a running time of 45:42 for volume  3 and 43:48 for volume 4.   Each title is broken down into chapters each with a specific science demonstration that lasts a few minutes in general so that you can choose to watch one or more in one sitting and not need to view the entire DVD at once.  This makes it nice so that you can maybe choose a science experiment that pertains to something you are studying that day in your science curriculum.  That way you can use these DVDs as a supplement to your own science program and to get your kids motivated to learn more.  The DVDs in themselves are not what you typically would see in a detailed lab experiment.  Instead each  demonstration gives you a little taste of the science principle without a whole lot of explanation in some cases about the whys of what happened.  Some cases you will get some explanation but I believe these DVDs are more there to give your kids an insight into how fun science can be and to get them excited to learn more.  Also the other unique thing about these DVDs is that they also contain a spiritual message in order to connect the science demonstration to our Creator.  Ben Roy has a catch phrase at the end of each demonstration, "Every time we learn something about science we learn something about our Creator God!"
In some cases he makes interesting connections between his demonstrations and the Bible.  I love when science is shown as something that God  has created and there is even a Bible verse that tells us that God fully expects us to find out everything we can about His creations.  Isn't that what science is all about after all? So many people try to separate science and God when they so clearly go hand in hand.
So what did I think about the Go Science DVDs we received?
Pros:
I liked that the science demonstrations were short and most of them were fairly exciting experiments.  I could tell Ben Roy was generally enthusiastic about science and about God.
I was excited that he connected science and God rather than separated them like most people try to do.
I believe that younger elementary kids would enjoy these DVDs and think it would instill in them an enthusiasm to learn more about science.  They would make a great addition to a younger child's science lesson.
Cons:
The volume level on the DVDs between different chapters is often inconsistent. Sometimes the volume is quite loud and other times it is very soft. This is just merely inconvenient unless you may have a child with sensory issues then it may matter to you a little more.
While the DVDs are suggested for ages 6-14, the actual presentation method, tone and character is more geared toward lower elementary ages.   While my 13 and 9 year old enjoyed watching some of the demonstrations, they both thought Ben Roy was teaching towards a younger audience.   Both of my kids would have liked to have a little more information about  the whys of the experiment.   Some of the experiments did give some information and others told you nothing at all.  You can see what I mean for yourself in the following video:
You can view what is included in each of the volumes of the Go Science series HERE on the Library & Educational Services website.
I would recommend these DVDs as a supplement to younger children in order to get them excited about science and so they will want to find out more about what they watched.
You can purchase individual volumes for $8.97 or $47.95 for the entire set of all 6 DVDs at Library & Educational Services website.
I suggest you check out what some of my fellow Crew members had to say about the various Go Science DVDs  on our TOS Crew blog.
Disclaimer: I was provided  free copies of both Go Science DVDs in order to provide my honest review of it for my readers  as a member of the TOS Homeschool Crew   All opinions are my own.
Leave a Reply
PLEASE NOTE: All comments will be moderated prior to being posted in blog.