Heritage History promotes traditional narrative history curriculum for homeschool.
So far our homeschool methods for teaching history have been a cross between using living books and a somewhat textbook approach.  When I was provided with the British Middle Ages CD and printed teacher guide  from Heritage History, I was excited.  Why?  Because to me,  learning history should be more taught through reading original books on the subject material rather than textbooks that were written based upon the original information.  Textbooks tend to obtain more bias and viewpoints of the textbook authors.  What this means to me, as a Christian in particular, is that the current worldview or "correctness" in society is what gets portrayed though the material presented to your children.   Also you get more of the author's opinion and their ideals overlaying the facts and some of history gets changed in the making of a textbook.
That said if you are not familiar with teaching through living books, I would like to briefly explain that here before I move on to the Heritage History products. Rather than learning history through a traditional history book your children learn history through books. What better way to learn history than to fall into a book and lose yourself among the stories. Rather than reading a section of a textbook that tells you what to learn and when, your children can choose books that allow them to learn a particular time era by getting lost in one or more books. The following quote by Charlotte Mason may give you a better idea of what I mean.
"The object of children's literary studies is not to give them precise information as to who wrote what in the reign of whom? — but to give them a sense of the spaciousness of the days, not only of great Elizabeth, but of all those times of which poets, historians and the makers of tales, have left us living pictures. In such ways the children secure, not the sort of information which is of little cultural value, but wide spaces wherein imagination may take those holiday excursions deprived of which life is dreary; judgment, too, will turn over these folios of the mind and arrive at fairly just decisions about a given strike, the question of Poland, Indian Unrest. Every man is called upon to be a statesman seeing that every man and woman, too, has a share in the government of the country; but statesmanship requires imaginative conceptions, formed upon pretty wide reading 'and some familiarity with historical precedents. " –Charlotte Mason

That said, what is Heritage History all about? Let me provide you with some quotes from the Heritage History website that will give you a better idea.
"The mission of Heritage History is to make old-fashioned history books, written for the enjoyment of young people, easily available. "
"We developed the Heritage website with the intention of helping to repopularize old-fashioned narrative history. We believe that the current trend of teaching Social Studies rather than history to young people is unfortunate, not so much because it is politicized, but because it is boring. Too many students leave school with a vague disinterest in history because it was never presented in an engaging manner. "
"Most of the books prepared for Heritage History take a old-fashioned, or story-based approach to presenting history, rather than an analytical or critical approach. "
You can go and read more about Heritage History's philosophy and the books chosen by them by going to their website HERE as well as  explore the rest of their website.
I remember high school history class but not what I learned in it. What I recall is being given reading assignments and  taking notes from the textbook.  I went to class and listened to my teacher retell what I had just read then turned around and took quizzes and tests on what I could recall from the textbook. Needless to say,  I only remembered what I read long enough to take the test and then turn around and forget about it.
Well, until about the 20th century, learning history was not done in the manner that I was taught it. I never really enjoyed history as much as I enjoyed literature class. In literature class I was given stories and allowed to lose myself in them and then to actually place myself in the world of that book and explore my surroundings. That is exactly what the approach of Heritage History is all about. Learning to love history rather than to dread it like a task to be completed.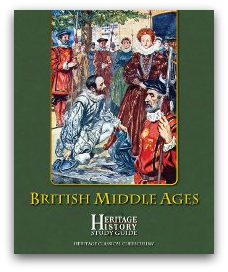 I received the British Middle Ages Curriculum CD which contains a collection of books which cover the period of British Middle Ages from 5th through 17th centuries in Europe and the British Isles. Topics include: "barbarian invasions, Christian conversion, feudalism, medieval war-craft, church-state conflicts, and the Reformation."
On each Curriculum CD there are "biographies, legends, hero stories, and historical literature as well as comprehensive histories.   In addition to books, study aids, including timelines, historical maps, and era summaries are provided in printable format."  The books are color-coded so that you can easily identify what grade levels they are appropriate for starting with early elementary ( about 4th grade) to high school level.      You are given reading log pages so that your children can record what they are reading. The teacher/study guide provides you with a description of each time era with basic facts, a timeline for that period along with a list of characters and wars, images, and recommended readings to go along with your study of that period. Each e-book in the collection is provided in PDF, MOBI, and EPUB format.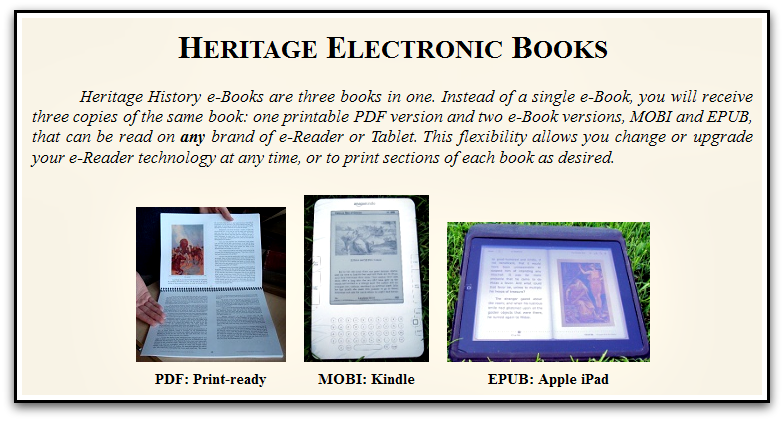 It is easy to see why our family has enjoyed Heritage History. Our family loves to read so it was very easy to start using Heritage History.  I had my children start by selecting several books  from the many that were provided on the CD. There is a section that is noted as recommended or required reading books and then there are those that are optional. My kids kept track of the books they were reading and the number of pages and time spent each day. I had them start a notebook and they included facts and ideas they learned along the way. We included the timelines and images as part of their notebooks. I am working on having them write short essays in order to reenforce what they are learning by giving them questions to think about so they can study and come up with ideas about the different time eras that they are reading about. I like having them learn this way rather than having them memorize facts to turn around and put down at test time. In the end they will have a book of ideas and information rather than just collecting a series of facts and dates straight from a textbook. My end goal is to have my kids learn to love history and to be able to learn to grasp concepts, ideals and explore the world around them in the present and the past.
If this sounds interesting to you as well,  then check out the Heritage History website for yourself and begin a journey on your own.
You can purchase your choice of one or several of the five different Curriculum CDs from their website for $24.95 each or all 5 of the World History Collection or $99 HERE on their website.
To learn more about what my fellow TOS Crew members had to say about all the various Heritage Classical Curriculum offerings from Heritage History, please visit our Crew Blog and read the reviews for yourself.
Disclaimer: I was provided a free copy of the  British Middle Ages Curriculum CD and teacher guide in order to provide my honest review of it for my readers  as a member of the TOS Homeschool Crew   All opinions are my own.
Leave a Reply
PLEASE NOTE: All comments will be moderated prior to being posted in blog.