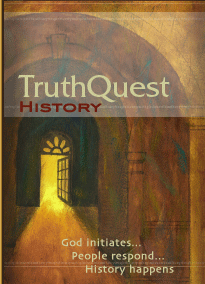 It is always challenging for me to find a history curriculum that has a worldview that falls within my beliefs as a Christian. So I was super excited to get the opportunity to review TruthQuest History's chronological study guide for Ancient Greece.
The chronological history guides are literature-based history studies that focus on the  Big 2 Beliefs ( Who is God?  and Who is mankind?).  These guides engage the student, as well as their teacher,  in order to discover the who, what, where and whys of  history in relation to our God,   The beginning of each section in the study begins with a commentary followed by reading lists.  There are ThinkWrite™ exercises that are strategically placed within the study guide that encourages your student to think further about what they are learning in order to better understand history.
In the Ancient Greece study guide we used, we started by making a visit to our library to see which of the books from the  reading lists that we had access to from each of the sections of the guide.  You are encouraged to select books that interest you and your child and to not be concerned whether or not you can go through all of them.  We began by gathering together a selection of the suggested books for the first section of the study and sat down together to read the commentary.  Once we did that, I told my kids to select a book and start reading the areas that interested them focusing on the ideas that we read in the commentary.   I had my children start a journal where they would write down any information that  they found interesting.  They even chose to draw maps and such in their books.  We plan on also doing crafts as well as finding recipes to help to supplement our study of Ancient Greece.   Throughout the study there are also writing exercises that  help your child to think deeply about concepts.  They wrote their answers in their journals in addition to what they  already had written in them.  The back of the guide has an appendix with sample answers to the ThinkWrite™ exercises.  For anyone that is used to traditional textbook learning   I am sure this is a different approach to learning  for you.  However, it is one  in which history comes more alive  for your student.    It also helps your student to see history as something meaningful to their life today rather than just a group of facts to learn and discard.
I remember next to nothing about what I studied in school regarding history. Mostly we read sections of a textbook and took quizzes and tests then forgot what we learned til the final exam when we had to cram again only to forget afterwards.  If I had something  like TruthQuest History to learn from then perhaps I would have gotten something out of my history classes rather than just a grade.
Things we found about TruthQuest was that we did not always find all of the books we wanted from our library but there were other options available.  We also chose other books that we found at our library that were not mentioned in the guides themselves but fit well within the study,
The Ancient Greece study guide is geared toward Grades 5-12.  Using your own discretion, younger kids can also participate using this guide if you choose to teach your kids together.  My youngest who is upper elementary also enjoyed going through this study with us.   I chose material from the reading lists as well as others from our library that were more suited for her age and selected which writing exercises for her to do as well.   I found the study guide was fairly easy to adapt for our situation.    TruthQuest has several study guides that you can read about which are for various age groups.  The website has a section which helps you choose which ones are more suited for your own children.  You can view that information HERE.
I recommend you check out TruthQuest for yourself.  You can view samples of their study guides by going  HERE on their website.and selecting samples from the various studies as well as purchase those studies on the same web page.
The various study guides may be purchased for  $24.95 to $34.95  for a hard copy or  $ 19.95 to $29.95 for a pdf version.
Check out what my fellow Crew members had to say about the various study guides from TruthQuest History on our blog. 
Disclaimer:  I received  the Ancient Greece study guide in pdf  format for free s a member of the TOS Homeschool Crew in order to provide an honest review for my readers. All opinions are my own.
Leave a Reply
PLEASE NOTE: All comments will be moderated prior to being posted in blog.