AIMS Education Foundation is a non-profit foundation that was established in 1981 with a grant from the National Science Foundation in order to aid teachers and students in developing a solid understanding of math and science.  AIMS stand for Activities Integrating Mathematics and Science.  At their online store, they have a lot of good materials that you can use to teach your children math and science.  There are activity books as well as hands on products.    One of the items at their store is a book with cd called From Head to Toe.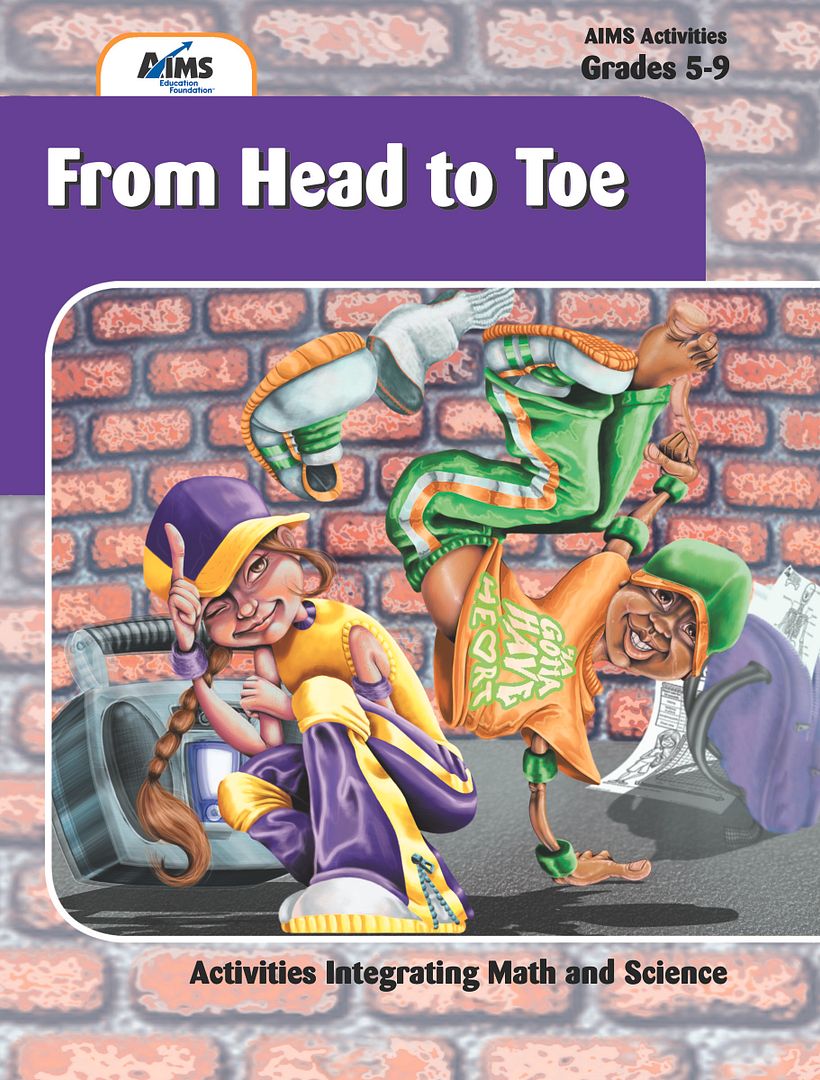 I received the From Head to Toe book with its accompanying CD to use with my children and provide my readers with an honest review.  This book provides information and learning activities that teach your child the basics of the nervous, circulatory, respiratory, digestive, urinary, musculoskeletal, and sensory systems of the human body.   By its completion your child should have a general understanding of how the body's systems work together to keep you alive and how your senses assist you in viewing the world around you.
The book itself is divided into sections by body system such as nervous system, circulatory system, etc.    At the beginning of each section you are given the basic information about what you will be learning.  It describes what the topic being covered is along with background information,  learning goals/key questions, guideline documents, NRC Standard, science  areas covered,  materials needed, , preparation required, procedures for activities, connecting learning information ,  internet connections, as well as other items depending upon each section.  Basically, that section is the information geared toward the teacher.  After the instructional introduction, the book proceeds with the information and activities for the student.  The activities within the book can be completed with a combination of using common items found around the house and by copying some of the pages either from the book itself or printing from the accompanying CD.  Basic copying privileges are granted to the purchaser within certain restrictions.  Along with activities, there are also questions which your student needs to think about and answer as part of each unit.
Each activity is explained in a very straightforward fashion so you and your child can easily work through the book with very little preparation.  Not like typical dry textbooks that teach you about anatomy, this book makes learning fun.  For example, in the first unit about the Nervous System, your child creates a rubber band book that contains basic information about the human brain.   After creating the book and reading it,  there is an activity where your child colors a diagram of the brain them cuts out labels with the various parts of the brain.  They then tape those labels to the diagram making pockets. Your child cuts out blank  squares on which they write the different functions of the brain areas.  Using these squares, you child can now practice matching the functions to its associated brain area by placing each square in the correct pocket on the diagram.    Not only has your child read the information but they have now done a hands on activity to further reinforce what they learned.  There are also question sections where they can fill in the information that they learned to further focus on key points from the section.
In other units , your child will be constructing a working model of the respiratory system, making a model heart, and performing an experiment  to discover the sensitivity  of various areas of the skin.  These are just a few of the  27  activities you will find throughout this 288 page  book.
Even though this is a secular science book,  my kids and I have really enjoyed what we have done in this book so far.  As with any educational book you use for your kids it is best to know the worldview that it focuses on so you can proceed using it within your family's own worldview.  Since I hold a Creation Science / Christian Worldview I always make sure my kids are aware of the differences between what we believe and understand versus what is being presented in the book or materials that we are using.   Fortunately, in From Head to Toe,  I have not noticed any major areas that would conflict with what our family accepts in the area of science.   However, we have not completed the book at this point so I  can only advise you to pre-read the materials and section for yourself and not just take my word on it.  As always it is your family that ultimately knows what is best for your own children.  One of the wonderful things about homeschooling!
I like that this book contains a good balance of text material and hands on activities.  This way I believe it better reinforces  what is being learned and makes a longer impression on my kids so that they will truly remember what they are learning and can see some things in action for themselves to some extent.  I also like that the book is in black and white rather than havign a lot of color material that needs printed out.  For me this is a big deal since copying color pages tends to be more expensive when needing to do that as a homeschooler a lot for various materials we use.  The accompanying CD is also wonderful to me because my printer does not handle copying pages from books easily.  Often when I use my printer to copy pages straight from books, I end up with copies that have shaded areas.  Being able to print out the pages I need is truly a blessing to this homeschool mom.
Check out a preview of the From Head to Toe book HERE!
From Head to Toe is targeted for grades 5-9 though my daughter who is in the 3rd to 4th grade level is enjoying  this book too.   It can be purchased as a print copy or e-book for $24.95.  at their store product page.
Check out the AIMS Education Foundation website to explore what other products they offer!
Visit our TOS Crew Blog to read what other members of the Crew had to say about From Head to Toe as well as reviews for some of AIMS other books:  It's About Time,  Fabulous Fractions, Looking at Lines, Earth Rocks!, and What on Earth?,
Disclaimer:  I received  the From Head to Toe book  for free as a member of the TOS Homeschool Crew in order to provide an honest review for my readers. All opinions are my own.
Leave a Reply
PLEASE NOTE: All comments will be moderated prior to being posted in blog.