Reading Eggs is an online program that introduces children to a world of reading through fun and  creative games, songs,  and stories which focuses on phonics and sight words.   There are 120 learn to read lessons and 90 spelling lessons which are geared to 4 through 7 year old beginning readers.   There is also a program for older readers which are 7 and up called Reading Eggspress which has lessons, a creative story writing factory, new games and books to read in the  Storylands.  Both of these online programs provide your child with a  wonderful online world that helps nurture your child's reading skills as well as providing a fun and creative way to learn.
My youngest daughter, though already reading, has enjoyed exploring Reading Eggs as well as Reading Eggspress.  She logs in on a regular basis without any prompting from me because she enjoys it so much.  She has even written a story through their program which was so fun for all of our family to read.
The Reading Eggs program was developed by teachers and centers around phonics and sight words.  What makes this program so much fun and encourages children to learn more is the fun approach it takes.  When your child  enters the world of  Reading Eggs, he or she escapes to a place where they can do lessons, explore their own special home, play games, read stories, listen to songs with the help of many wonderful characters they meet along the way.
Getting started with this program is easy. You can even start off with a free trial to check it out for yourself on their website at http://readingeggs.com/signup. Initally when your child begins they are given an assessment in order to place them in the program where they best fit for their current skill level.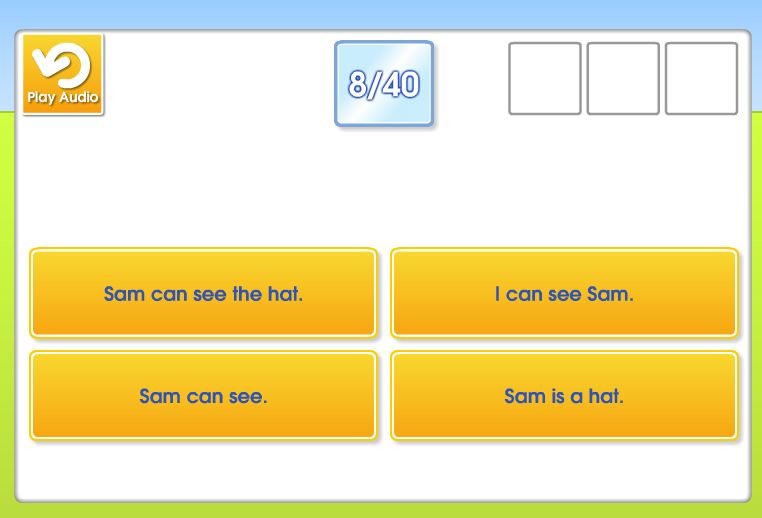 After that your child can choose lessons and other activities where they can earn rewards within the Reading Eggs world. The following shows a visual map of your child's progress in the program.

Though my daughter was a little beyond the Reading Eggs part of the program she nonetheless loved trying it out so I am sure younger kids would loved this program as well. My daughter mostly worked through the older program they have available called Reading Eggspress which I also recommend for readers that could use a fun and creative way to improve their reading skills.
As a parent your login in provides you with basic account management as well as a progress area for your child.
Reading Eggs is priced as follows and you also view more pricing information on their website:
12 month subscription: $75 which is about $1.40 per week.
6 months: $49.95.
Monthly recurring option for $9.95 a month
Add a second or third child at the same time and receive 50% off their subscription price.
In addition there are other products (book packs, flashcards, and activite books)  that Reading Eggs has available on their website HERE.
Be sure to read what my fellow TOS Crew members has to say about Reading Eggs program here on our Crew Blog!
Note: I received a free trial of Reading Eggs as a member of the TOS Homeschool Crew in order to provide an honest review for my readers.
Leave a Reply
PLEASE NOTE: All comments will be moderated prior to being posted in blog.