Progeny Press has 100 literature study guides for lower elementary to high school grade level students.  They are categorized by grade levels and by genre.  The suggested time for each study guide is anywhere from 8 to 12 weeks depending upon the level.   The aim of their study guides is to aid students to think critically, analyze and comprehend the  literature they read, and apply Christian principles.
I have seen, as well as used, many literature guides in our homeschooling but found Progeny Press to be a little different than the others.  First of all, I really enjoyed their approach of the guide from a Christian perspective.  We received the study guide for the Bronze Bow by Elizabeth George Speare (70 pages) whose audience is targeted for grades 6th through 8th.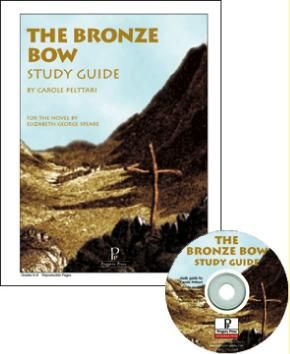 In the introduction to the instructor,  it is recommended that the student  have a good dictionary,  thesaurus, Bible (they prefer NIV), and perhaps a concordance or Topical Bible on hand in order to complete the study guide.  The study guide begins by providing several sections of useful information including a synopsis,  about the author section,  background information as well as pre-reading activities.    We proceeded to go over this together and selected a few of the pre-reading activities before reading the book itself.  One of the pre-reading activities we chose was to draw a map of Palestine at the time of Christ which we used to fill in various locations as we encountered them in the story itself.   Our study guide was then broken down into  eight sections concentrating on several chapters at a time with various types of questions to answer as well as other items such as a crossword puzzle to complete.  At the end there is also  a summary section that you can use either as a type of final test or just as a means to wrap up the story itself. Some of the questions through the study guide focused on defining vocabulary that was found throughout the chapters, others asked to describe incidents in the story that was read, and others had our daughter work on understanding various literary elements that were  used in the story.   One question had my daughter look up scripture to match up names with where they were mentioned in the various verses read.  In addition there are other optional activities for your student to work on which provide further opportunities for creative writing and research skills.   Throughout the study,  not only did my daughter have to understand the story and events and be able to write about it, she was also learning the relevance of what was in the story against Christian events and principles. She  was also having  to use critical thinking and analysis skills as well.  Not only do you receive the guide itself but you also are given an answer key.   I have never used Progeny Press study guides before but I really liked our experience with the Bronze Bow study guide that we received to review.   I think this may be the beginning of many more study guides for our family from Progeny Press.
This study guide is available for purchase  in several formats.
As a printed and bound booklet        $18.99
On a CD in .pdf  format                            $16.99
CD and Booklet:                                         $23.99
As the same .pdf file as an e-mail attachment    $16.99
One thing to note is that these guides are reproducible and the work can be completed interactively within the file itself if you have chosen a pdf format.  This was important for us because we did not have to worry about the cost of printing off the pages or risking losing pages my daughter completed.  Yes this is often a problem with other things we have done in the past so I was thrilled with this aspect of the guides.
If you go HERE you can view a sample PDF of the Bronze Bow study guide for yourself.
Please check out what my fellow TOS Crew members had to say about  various study guides by Progeny Press including not only the one for Bronze Bow but others that they sell as well.   You can read the reviews on our Crew blog.
Note: I received  the Bronze Bow study guide pdf for free as a member of the TOS Homeschool Crew in order to provide an honest review for my readers.
Leave a Reply
PLEASE NOTE: All comments will be moderated prior to being posted in blog.