Ok.  I guess the first thing I should do is introduce you to what exactly K5 Learning is all about.   It is an online learning  program for kindergarten through 5th grade that covers reading, math, and study skills.   You may be thinking about now "Oh yeah another one of those programs".  There seem to be a lot of online learning programs these days and you are probably right about that.  However I am here to tell you a little more about this program from someone who has had a chance to actually use it which is more than what you get when you do an online search and view what the vendors have to say.  Am I right there?  Ok so let's get started.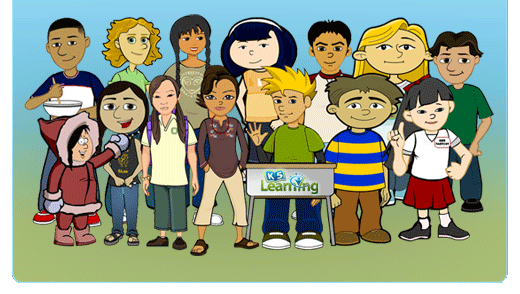 K5 Learning says this about their program:
"K5 Learning is an online reading and math program for kids from kindergarten through grade 5.   Our intent is to help kids build reading, math and study skills through independent study.  K5 is designed for use at home, after-school, on weekends and during the summer, and can also be used in conjunction with a homeschooling program."
Up front I'd like to mention it is not meant to be a full curriculum in itself but to supplement the math and language programs your child is already using to ensure that they are getting the skills they need for math, reading and study skills.
When we first got our access to K5 Learning,  the first thing we did is have my daughter take an assessment test which determined where she should start in the program.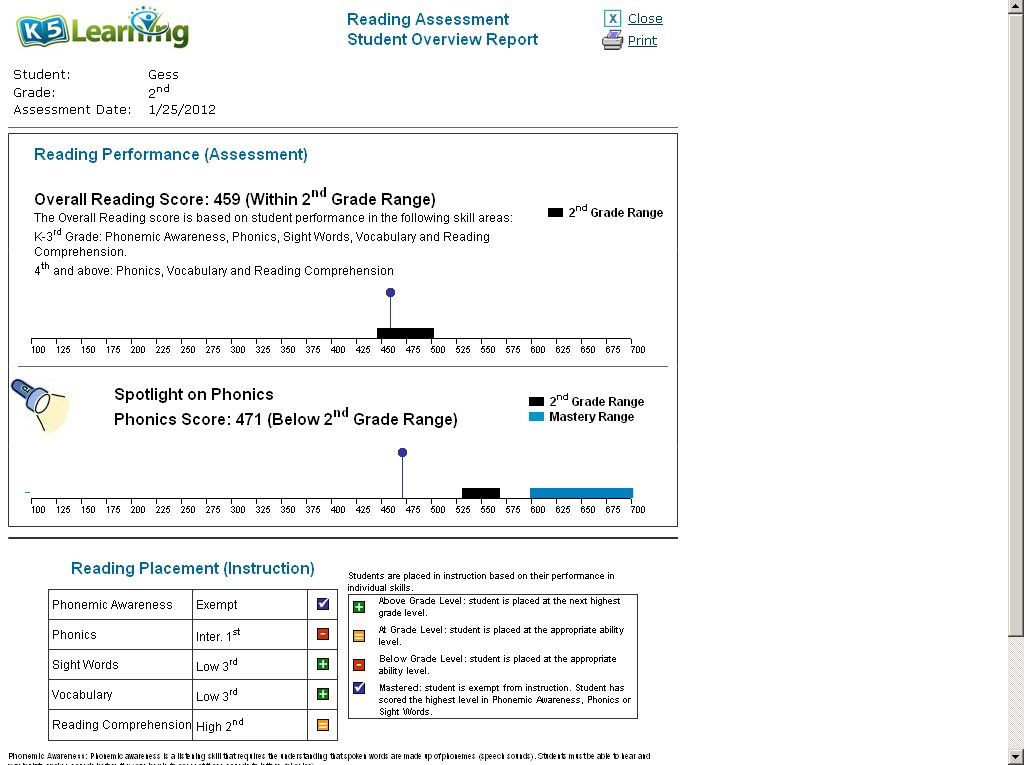 After she was setup at a certain level in the program she then proceeded to work at her own pace independently.   The system chooses the lessons for her so there is no  additional work that you as a parent needs to do for your child to get benefits from their program.  The program is animated and interactive so that my daughter generally was interested in logging in and working with the program without being told.
K5 Learning has 4 different components:  K5 Reading and K5 Math (curricula based lessons), K5 Math Facts (an adaptive program for developing instant recall in math facts) and K5 Spelling (an advanced spelling and vocabulary tutor).
In the math facts portion, your child works on his/her math facts until each of them are mastered.  You can see from the following progress chart that your child and you are able to see what areas have been mastered and which ones are in progress and still need work.  Math facts are assessed based upon both accuracy and speed.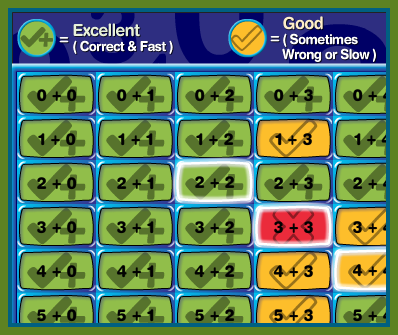 My daughter really liked the Spelling component of K5 Learning.  She liked that she could learn both spelling and vocabulary.  She told me she liked that the program gave you a second chance at spelling the word rather than just telling you it was wrong and moving on.  She didn't work that much in the reading section since she does so much reading on her own already but she said she enjoyed what she did do with that.  Math was her favorite part of the program which was no surprise since that is her favorite subject.  I really liked that the program allowed for myself, as a parent, to view reports of my daughter's progress along the way.
You can view  sample lessons by going to  the K5 Learning website HERE.
To view more specific details of the K5 Learning program I highly suggest you view information from their website because there are many details which you can learn more effectively from the K5 learning website as well as videos to watch.
K5 Learning has a free 14 day trial so that you can try their program out for yourself before choosing to sign up with an account.  There is no obligation and no credit card required to begin your trial.
If you decide K5 learning is for you they have monthly and annual subscription options:
Monthly Subscription
First Child…………………..$25
Additional Children……….$15
Annual Subscription
First Child…………………..$199
Additional Children……….$129
 Also please check out the TOS Homeschool Crew blog so that you read what my fellow Crew Members had to say about their experience using K5 learning!
Note: I received  a trial of K5 Learning  for free as a member of the TOS Homeschool Crew in order to provide an honest review for my readers.
Leave a Reply
PLEASE NOTE: All comments will be moderated prior to being posted in blog.