I really love all that Classical Academic Press has to offer homeschoolers.   I was so excited when I was given the opportunity to review the Art of Argument which is geared toward middle school aged children as well as high schoolers who have not had previous exposure to the study of logic and reasoning.  I was not exposed to this type of material until I was in college so I am thrilled that my kids will have the opportunity to learn this material far ahead of when I did.  My oldest, who currently wants to be a lawyer, was excited because she thought this was something she could get into learning.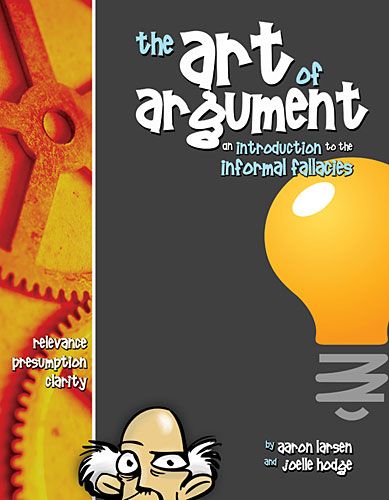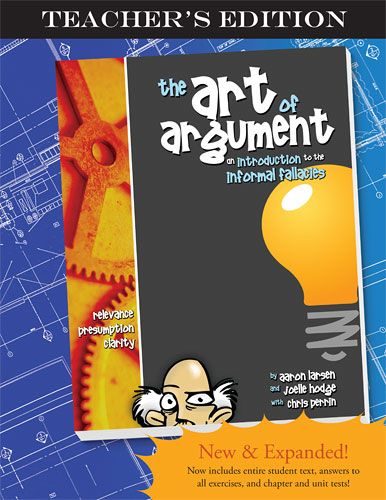 What exactly is covered in the Art of Agreement?   This curriculum introduces your student to the study of informal fallacies.  Through this book your child will learn how to argue with precision, clarity and with purpose which are the essentials to overcome the fallacies that one is confronted with in today's society.  Whether you are looking at political campaigns or advertising, you are continuously bombarded with arguments of informal fallacies and this book will help you recognize them and learn to reason well.
From the Classical Academic Press this book covers the following material:
Students master 28 fallacies (such as begging the question, the straw man, ad hominen, et al) by studying many pertinent examples. The text features a variety of:
Dialogues
Worksheets
Real-World Applications
Phony Advertisements
Dialectic Discussion Questions
Tests
Fun extras such as a humorous skit for students to perform, and the famous short story, Love is a Fallacy by Max Shulman
The Art of Argument has been revised to include:
Improved chapter and unit organization for greater ease of use
Fallacy explanations rewritten for clarity
Many added and updated examples
Ten new and revised advertisement illustrations
How did we use this book and the accompanying teacher guide and DVD that we received?
My oldest and I worked through several lessons together in the following way.  I would sit with my daughter with myself going through the teacher guide and my daughter with her student book.  We read the material together and I had my daughter answer the questions in a notebook then we discussed the answers together. The book not only has questions to answer  on the material read but opportunity to write essays related to the material.   Though we did not choose to do the essays at this time for this review period, I really liked all the reinforcement that the book has in covering the material for each informal fallacy presented.  Also we chose to watch the accompanying DVD session after we worked through each fallacy in the book as further reinforcement and  clarification of the material.  Viewing the DVD  really helped my daughter to better understand the material and remember it.  There are also chapter tests and a final exam included in the teacher edition as well as all the answers for the work provided to the student.   The Art of Argument is not simply a boring textbook like I had in college while studying logic, but it brings to life the information through its  many examples and pictures of made-up advertisements as well as dialogues between Socrates and a girl named Tiffany.  We had fun taking what we learned and looking at the world around us for examples of what we had just studied.  While we did not go through the entire book, I plan on using this book for our next school year as a course that I intend to include on my daughter's transcript when she completes her high school years.  I am that pleased with the content and quality of the Art of Argument curriculum and hope to be able to complete all three levels of their logic curriculum in the future.
You can view details for all the materials in Classical Academic Press's Logic curriculum HERE .  Also take advantage of looking at samples of the chapters for each product by going to its corresponding product page.  I have included a link to the Art of the Argument chapter samples for your convenience:   Art of Argument student book link    and Art of Argument Teacher Edition link.
For additional information about the Logic products you can view the FAQS session of the Classical Academic Press website HERE.
If you are interested in purchasing the Art of Argument for yourself you can buy them from the Classical Academic Press website HERE for the following prices:
Art of Argument student book for $21.95
Art of Argument teacher edition for $24.95
Complete DVD set for the Art of Argument for $54.95.
You can also view the other products and pricing on the logic page HERE.
Check out what my fellow TOS Crew members had to say about the Art of Argument as well as Classical Academic Press's second book in the series, The Argument Builder on our Crew Blog.
Note: I received  the Art of Argument student book, teacher guide and the first DVD of  the Art of Argument set   for free as a member of the TOS Homeschool Crew in order to provide an honest review for my readers.
Leave a Reply
PLEASE NOTE: All comments will be moderated prior to being posted in blog.