See-N-Spell is a 40-page quick reference guide which includes over 300 commonly used words in order to help writers improve their spelling and vocabulary. The guide organizes words alphabetically and by part of speech. There is also a section for commonly misspelled words as well as an area where you can write in your own words that you may want to refer to easily. The guide is geared toward grades four through adult to help writers choose words that they normally would not use because they are not confident in the spelling or usage of the words.
My children have been working on their writing skills this year and one thing they have had trouble with is keeping from using the same simple words over and over again in their writing. Rather than going to a dictionary or thesaurus to look up different words to use, they had been just selecting easy words that they already were confident with and that were easy to spell.  Using See-N-Spell, they were able to enhance their writing compositions and started to develop a better writing vocabulary. While not every word is in the See-N-Spell reference guide, it has been a good start to give them more confidence in their writing skills. See-N-Spell has really worked well to supplement their current writing curriculum.
When you purchase a See-N-Spell reference guide you also receive a free See-N-Read reading tool.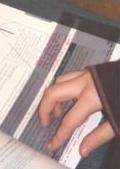 This reading tool is useful to help readers reduce word and line skipping and aid readers in maintaining a better focus when reading longer passages. You can read more about the See-N-Read tool HERE on their website.
You can purchase your own See-N-Spell quick reference guide along with a free See-N-Read for only $9.99 HERE.
Check out what my fellow TOS Homeschool Crew members also had to say about both See-N-Spell reference guide and the See-N-Read tool by visiting our Crew Blog.
Note: I received a free See-N-Spell and See-N-Read as a member of the TOS Homeschool Crew in order to provide an honest review for my readers.
Leave a Reply
PLEASE NOTE: All comments will be moderated prior to being posted in blog.