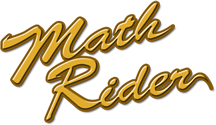 What comes to mind when you think about a program that drills math facts towards the goal of mastery? Is it a tedious boring task where your child goes through a flashcard type approach? Do you think of your child rolling their eyes and dreading such a task? Do you hear, "Oh Mom do we have to do that again?" Well recently my family has had the opportunity to try a software math facts game whose goal is to ensure your child masters the basic math facts to ensure a solid foundation for their math knowledge. Instead of basic drilling techniques Math Rider has created a fantasy world full of castles, horses, princesses and other fantasy related items where your child along the way learns their basic math facts — addition, subtraction, multiplication, and division.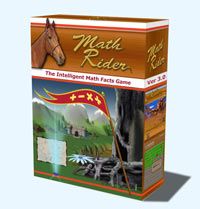 According to the Math Rider website the game is described as follows:
"Your child is taken into a land of fantasy and quests. Living in the Land of Ray and riding a horse called Shadow, he or she will set out on various noble adventures. Riding across amazing, digitally matte-painted moving backdrops of distinct fantastic lands, they will accomplish their quest, be it finding magical flowers, returning gems to the elves or even rescuing a princess!"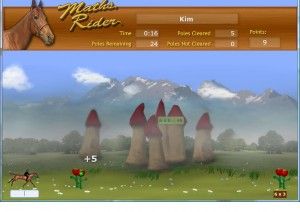 In addition to going on a math quest, your child can also take practice runs and set up which math operations they wish to work on, what type of practice to do whether obstacle course or timed practice, as well as setting up a number range and number of questions for that practice run. There is also an area that they can view their own progress so that they can see how far they have come in learning their math facts.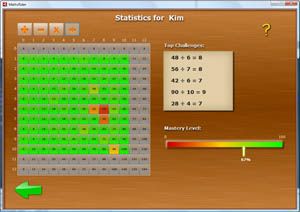 During the game your horse will slow down or speed up depending on how fast you are able to answer the questions so that children will not get frustrated the game is moving too quickly or slow for them.
A lot of thought has gone into the development of this game both for the child as well as the parent's benefit. I have been very impressed by Math Rider for anyone who has a child needing to master their math facts as well as those who need to fine tune theirs.
The game itself adapts to your child as he or she plays so that they are exposed to those facts that they still need to know while identifying which ones they have already mastered. In this way your child is not bored by having to go over and over those facts they already have learned but are helped to advance toward mastering the ones they still need to learn. As a parent you have plenty of information that you can access to see how your child is progressing so that you can see where your child stands in learning his or her facts.
Throughout the game your child only has to type the answer to questions and the game controls the action on the screen so your child does not need to be frustrated with controlling characters and can focus on the important part which is learning their math facts while enjoying the rewards of the game as they provide the correct answers to math problems. The game can handle more than one child so that once one child is done for the day another can sign in and play at their own level.
You can go to the Math Rider website to learn more about Math Rider for yourself as well as get a free trial.
My youngest has been playing Math Rider and has really enjoyed the game. Not only has she been improving her math fact skills but she generally enjoys signing in to play the game. She loves completing the quests and seeing the rewards at the end of each one. You can choose to stop for the day and sign in at a later time to complete the one you are working on. So your child does not need to be frustrated by having to complete a quest in one sitting and instead can come back to it again without losing where they stopped in a quest. Also there are 4 different levels of difficulty for each quest so your child can also control how they progress in reaching their goals. The story line that begins each quest is both in text on the screen and read to your child so that their ability to read does not become a factor in any way that would keep him or her from having a good experience with Math Rider.
If math facts are something that your child still struggles with or has yet to start working on then I really suggest you check out Math Rider as a tool to aid your child on their own quest toward math mastery. Math Rider has enough game play, animation and other features to make learning math facts exciting and fun yet not too much where it becomes a hindrance and distraction in what is really important which is the actual learning of the math facts.
Math Rider is geared toward elementary ages and really would be valuable for any child needing to build their math foundation in order to progress successfully through any math curriculum.
Math Rider can be purchase HERE for $37 until February 15 when it goes back up to $47.
You can also read the reviews of my fellow TOS Homeschool Crew member on our crew blog.
Note: I received a free trial of Math Rider as a member of the TOS Homeschool Crew in order to provide an honest review for my readers.
Leave a Reply
PLEASE NOTE: All comments will be moderated prior to being posted in blog.