is a web-based assessment and learning math system. My kids have both been using ALEKS for a short time now. You can read an overview of ALEKS on their website for specific details. With ALEKS your student gets an assessment of their current knowledge and after being placed within the program your child proceeds through lessons helping your child to master the various areas within the course you have placed them in.   ALEKS has a large selection of courses you can choose from based on your student's needs.  A list can be viewed HERE on the ALEKS website.  Along the way your child is reassessed and provided work to master the various areas until he/she completes that portion of their lessons. Your child sees a visual representation of the topic areas that they have to master for a specific course and is shown how much of that subject matter has been mastered which is represented graphically by a pie graph.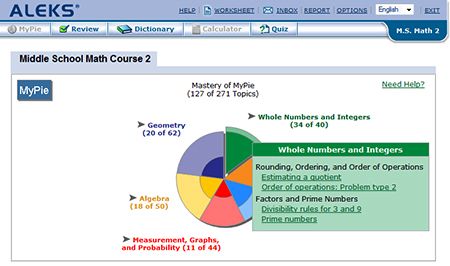 ALEKS is geared for grades 3 through 12th and even those above those grades can benefit. Unlike some programs that just provide multiple choice question and answer lessons, ALEKS uses "adaptive questioning" throughout the program to enable the student to master the material to ensure it will be learned and retained as a result of completing the subject material he/she is learning in the program. Both my children genuinely liked ALEKS which is saying something since my oldest normally does not like math and tries to avoid doing math lessons. Both my children enjoyed the challenges presented in the ALEKS program.   As a parent I am able to track the progress of my children and I receive status reports by email that detail the progress of my children.  I am informed of how much of the course my child has mastered of the total topics being covered, given an attendance report of how long my child used ALEKS within a certain time period as well as shown quiz results and provided a link to get online reports.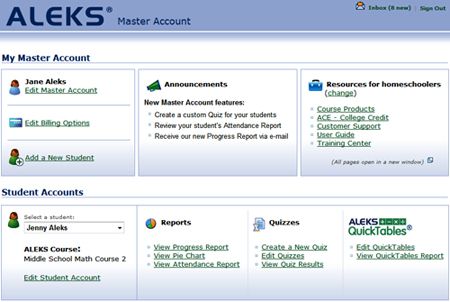 I like ALEKS because I can feel confident that my child not only is being asked questions but has the ability to ask for help while working on the problems in the system. If my child is not familiar with how to do the current problem she can click on the explain button to get help in doing the problem. ALEKS also has a section that provides for mastery of basic math facts called ALEKS QuickTables.  According to their website it is described as follows:
"ALEKS QuickTables is a research-based math fact mastery program for multiplication, division, addition, and subtraction for grades 3 and up. The online program offers an interactive Student Module with ongoing assessment, learning, review, and visual tracking of student progress. In addition, the Master Account allows parents to monitor student progress and adjust program settings to best fit student needs. "
QuickTables includes "Interactive Games Provide Additional Review and Built-In Rewards ".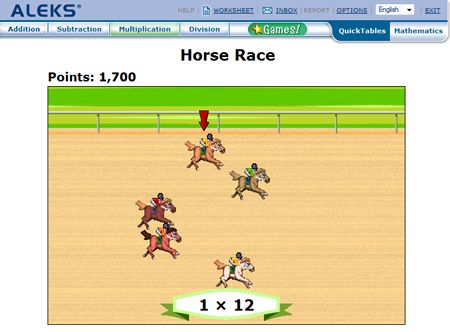 I find it is difficult to present everything there is to know about ALEKS without duplicating what is described on their website , so I suggest you visit ALEKS website and take the tour as well as sign up for a free trial to check it out for yourself.
ALEKS pricing for one student is as follows:
$19.95 per month
only $99.95 for 6 months! Six months for the cost of five
only $179.95 for 12 months! Best Deal: You save $59.45
For multiple student rates check out their pricing HERE.
I have personally experienced the benefits of ALEKS through my children and suggest you check out ALEKS for yourself.
You can read what my fellow TOS Crew members had to say abotu ALEKS by visiting our crew blog and reading the reviews for yourself.
Note: I received a free trial of ALEKS as a member of the TOS Homeschool Crew in order to provide an honest review for my readers.
Leave a Reply
PLEASE NOTE: All comments will be moderated prior to being posted in blog.