I went to public school when I was growing up. At my high school we had several paths we could take for our curriculum, I chose the college path and a foreign language was required for it. I ended up taking French and wished I had taken Spanish. Needless to say I was thrilled when I had the opportunity to review Homeschool Spanish:  A R.E.A.L Curriculum for the Whole Family. I have tried a few Spanish curriculums in the past but none of them had really clicked with my kids.
What I received from Homeschool Spanish was the download version of their curriculum which included  the book, a 179 page activity book, a series of audio files, an answer guide and a daily curriculum guide. The book contains 10 different units. Each unit centers around a theme such as greetings, colors, sports, etc. and contains vocabulary, educator tips, grammar tidbits. The activity book has pages such as word searches, crossword puzzles, fill in pages as well as others. For each unit there is an audio file that goes along with it so that you can hear the words and phrases pronounced correctly and can practice along with it.
The whole philosophy behind the R.E.A.L. curriculum is one that is geared to a homeschool environment rather than towards a classroom one so that parents can learn along with and guide their children inlearning the language through a daily routine. It uses a conversational approach in which to build a foundation for learning the language.
What I liked about this curriculum was that it contained ideas and tips so that you can choose what and how to use what is provided which makes it less burdensome and more fun. There is a guide you can use and tips for ways to learn the material in each unit.
I printed each unit off in advance and we started by going over the vocabulary for the first unit. We listened to the audio file and practiced repeating the words and phrases on our first day. I printed off the activity pages that went along with the unit and gave both my daughters their own copy. I allowed them to work through it both on their own and to work together as a team. I found that my children were trying out the words they had learned that week with each other at other times throughout the day and was very encouraged to see them doing so. I found that this curriculum seemed more of a relaxed way to learn Spanish when compared to some others I have tried with my kids. They seemed to enjoy the program and not feel as stressed about learning Spanish. Personally I liked that it did not require a lot of preparation on my part and was very easy to use as well as providing a lot of variation to keep our lessons interesting.
R.E.A.L. Spanish stands for RELAX, ENJOY, ASPIRE, LEARN SPANISH. I found this to be entirely true for our family and although we have not made it through all the units yet but I plan to continue using it as part of our weekly plans.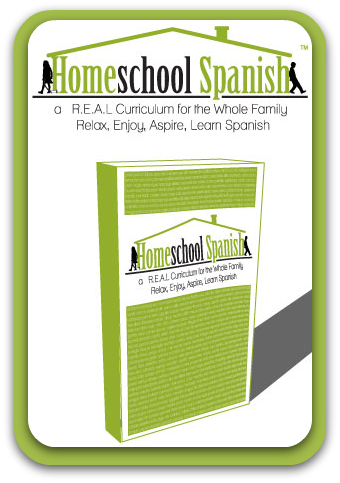 REAL Homeschool Spanish can be purchased either as a download or as a hardcopy. The download bundle can currently be purchased for $49.95 without the curriculum guide or with it for $59.95. The hardcopy without the daily curriculum guide and which includes the audio files on 2 cds costs $89.95.  The hardcopy bundle with the daily curriculum guide can be purchased  for $99.95.   You can purchase any of these bundle options  on the REAL Homeschool Spanish website HERE.
The REAL Homeschool Spanish website has samples of the curriculum that you can view by going HERE.    In addition, you can also visit their website for cultural links to aid you and your family in adding a cultural experience as you go through their curriculum.
To learn more about R.E.A.L. Homeschool Spanish please visit the TOS Homeschool Crew blog to hear what my fellow crew members has to say in their reviews.
Note: I received a download copy of the REAL Homeschool Spanish bundle for free as a member of the TOS Homeschool Crew in order to provide an honest review for my readers.
Leave a Reply
PLEASE NOTE: All comments will be moderated prior to being posted in blog.