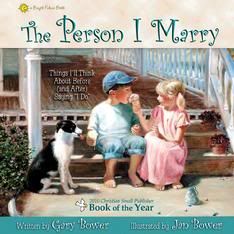 The Person I Marry, written by Gary Bower and beautifully illustrated by Jan Bower, is one of the books in Bower Books' Bright Future Series. It is a 32 page hardcover book which is ideal for both children and adults. This book teaches the reader the positive qualities and traits to look for in a future spouse through the use of its poetry and wonderful illustrations. A quote from the Bower Books website tells us that The Person I Marry mentions qualities like "Respect, kindness, honesty, faithfulness, thoughtfulness, patience."
I received this book in e-book format so I can only imagine how beautiful this book is in person. I believe it would make a wonderful gift for any child whose parents desire him or her to grow up expecting their future mate to be the person God intends them to be in their marriage. For any parents that pray for their child's future, this is an ideal book to remind them what traits God wants them to pray about for the spouse of their child.
My children and I read this book together and it led to a discussion about who not only they should look for in a future spouse, but also in other relationships as well. I also had both my children create a poster to hang in their rooms so they could have a daily reminder of what we learned about in this book.
Not only was I pleased with the book, The Person I Marry, but it also earned the 2010 Book of the Year from the Christian Small Publisher Association.
To get an even better idea about the book, The Person I Marry, you can view the following video which not only gives you a peek inside the book but an insight into how it came about from the Bowers themselves.
The Person I Marry can be purchased for $11.99 from the Bower Books website at http://bowerbooks.com/brightfuturebooks/thepersonimarry.html.
You can also check out their website for other books in the Bright Future Series such as What Do Heroes Wear?, In Heaven!, and The Jingle in My Pocket.
Please read what other TOS Homeschool Crew members had to say about the book, The Person I Marry, here on our crew blog.

Note: I received this product for free as a member of the TOS Homeschool Crew in order to provide an honest review for my readers.
Leave a Reply
PLEASE NOTE: All comments will be moderated prior to being posted in blog.