Everyday Education offers all kinds of  homeschool resources for homeschooling through High School.  Our family received the first part of the Excellence in Literature curriculum to use in order to provide you with a review from a homeschooler's perspective.    We are just beginning our journey into the teen years of homeschooling and have been looking for a quality literature and composition course so we were very happy to start working with this curriculum.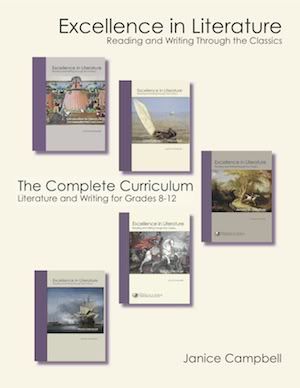 The full Excellence in Literature curriculum has five different levels which cover grades 8 through 12.  You can view information about each of the levels 1- 5 by clicking on the specific links below.
Excellence in Literature is a college preparatory course in both literature and composition which is reusable.  Each level is set up to be self-directed and broken down into weekly lessons  for easy use.  The literature required for this course are either included as links within the material itself or can be either  purchased or borrowed from a library.  You can view a pdf file of the required reading from the Everyday Education website HERE.
My review is written based on the first level of the Excellence in Literature curriculum.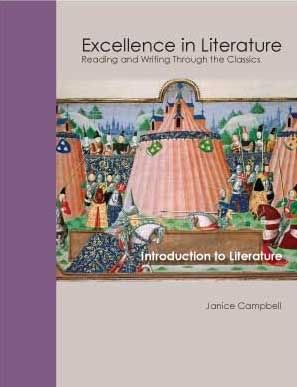 The objectives of Introduction to Literature, English Level 1, are the following, taken from the Everyday Education website:
Understand the process of writing, including the use of tools such as a writer's handbook, dictionary, and thesaurus.
Have specific understanding of selected representative texts by major authors of the periods studied.
Have a general understanding of the historical and cultural contexts of the works.
Be able to analyze literary texts and present thoughtfully developed ideas in writing.
Demonstrate competence in essay organization, style, and mechanics.
The Introduction to Literature, English Level 1 e-book we received is set up as 9 units with each taking 4 weeks to complete.  The readings for the course are divided into focus readings of short stories, novels, poetry, and drama as well as context reading material that provide background on the author, historical period, and the literary and artistic content of the focus reading material.  The first level is geared toward 8th grade as an introductory literature course that can be used as a college-prep coursework.  It also includes work for honors level.
Most kids are exposed to reading literature at a basic comprehension level but Excellence in Literature goes beyond that and helps to aid your child to learn literature and think critically about what they read.
Within the curriculum, there are links to the material your student needs to read along with the directions for each assignment.    I really liked that there was both focus literature as well as context reading so that you as a parent/teacher do not have to provide background information for the literature that is being read.  It also establishes good reading habits that can be useful for your child when they study literature at a college level.     As an English minor myself, I see the value in the Excellence in Literature course as a good preparation for college coursework.
I loved that the lessons were clearly written so that my daughter could easily work through the course on her own with some guidance.  Unit one started out with short stories and the written forms that are part of the lesson assignments have both an explanation of how to write the assignment as well as samples to follow.  The first assignment was to read the short story White Heron and then to write an approach paper.  My daughter needed some help with the writing portion of the lessons she has completed to this point and we have not completely followed the suggestions for the recommended time for each unit but we are seeing the benefits of the Excellence in Literature curriculum.
The Excellence in Literature curriculum can be purchased as individual levels or as a complete set.  You can purchase the individual e-book for $27 or you can buy it in a print version for $29 plus shipping HERE.  The entire curriculum of all 5 levels can also be purchased in e-book format for $135 or as printed material at $139 plus shipping cost as seen on their website.
You can view a sample unit of the Excellence in Literature lessons by going HERE to get an idea of the general structure of the lessons within the curriculum.
Please read what other TOS Homeschool Crew members had to say about Excellence in Literature  here on our crew blog. 
Note: I received this product for free as a member of the TOS Homeschool Crew in order to provide an honest review for my readers.
Leave a Reply
PLEASE NOTE: All comments will be moderated prior to being posted in blog.