Studying vocabulary can be quite a daunting task not only for the child learning the words, but for the teacher or parent working with them to learn the words.  What do you study?  How do you learn them?  I admit to having tried several different programs or books that claim to be the best way to learn them in preparation for things like the SAT test.  My goals for learning new vocabulary for my child is that they truly know the word even after they take the tests.  I mean they can recognize it, know how to spell it and know the meaning of the roots and prefix/suffix of the word itself, understand its meaning and can use it in a sentence.  Very few programs seem to have those goals in mind.  Most of those programs are merely sophisticated flashcards.   I don't know about you but for me I would rather make my own flashcards than pay for someone else's flashcards.  This is where the College Prep Genius  VocabCafe Series comes into play.  I received the four VocabCafe Series books in order to check them out and provide a review for you.
Each of the books in the VocabCafe series contain about 300  SAT-level vocabulary  words used within the story itself so that your child not only gets exposed to each word but sees it used within an actual story.    In addition each word is bolded so that it stands out and then there is a footnote on the page with its dictionary entry so that your child does not have to stop what they are reading to look it up.  I really liked this because it has always been difficult to convince my daughter to look up words she doesn't know when reading and for her she can easily learn the word without being distracted and needing to get back into what she was reading again.  I believe this more readily reinforces the word's usage in this manner.  At the end of each chapter there is a review section which further reinforces the words that your child is learning throughout the story.  Another bonus is that each book is a story that does not contain foul language or sexual themes.   Of course you should still review the books prior to giving them to your child but unlike a lot of the books in the library's teen section, they are more age appropriate than what is being put out there for them nowadays.  The College Prep Genius website cites "These modern novellas contain no foul language, no illicit sexual themes, and no sorcery!".    One of the stories, IM for Murder, does contain some graphic material that may be upsetting to some so it is always advised to preview materials if things like that are an issue for you or your teen.  I know for many homeschoolers like myself this is definitely a positive thing to come across in reading material.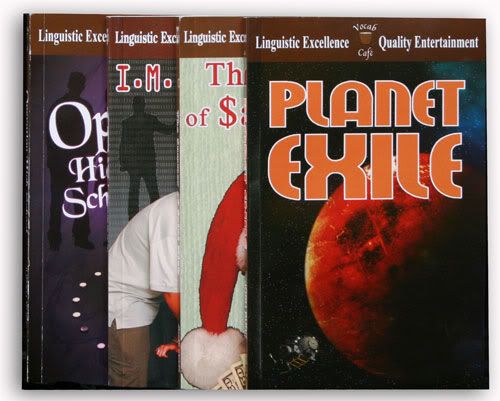 IM for Murder
Operation High school
Planet Exile
Summer of St Nick
My daughter has been reading Operation High School and has said that she is enjoying the story and really likes how the words are shown in context of the story as well as having the definitions and pronunciation easily accessible for her.  To reinforce what she is learning I also have her keep a notebook of the words as she completes each chapter and reviews the words in the book.  I am truly amazed how these words are being used in a story.  I always found it difficult enough to just come up with a sentence to use them in but the author has managed to not only do that but put it also within a story too.  Of course some of the word usage in the stories are a little rough but still I give them an A for effort in utilizing them in this way.  I have been definitely pleased with the VocabCafe series, though a few of the books may wait to be read til my daughter is a little older.    These books are geared more toward mature teens as they do contain some themes that are more appropriate for a true high school age group.  For example, IM For Murder deals with a serial killer so you can understand why I say you as a parent need to preview the books to see if it is appropriate for your child to read.  There were some noticeable typos within the story my daughter was reading, though I have noticed this with other works of fiction I have read. I am hoping they will correct this in future editions since it is being used for educational purposes.  The age appropriateness of the stories and some minor typos are really the only potential negatives I might have for VocabCafe series.
Currently all four of the paperback  books in the VocabCafe series can be purchased at the special price of all 4 books for the price of 3 at $38.85.   Check it out HERE on the College Prep Genius website.  Individually, the books can be bought for $12.95 each.
There are many other products available on their website and some of my fellow Crew members have recently reviewed the SAT Prep Course. You can check out all the reviews the crew has done for College prep Genius HERE on our Crew blog.
Note: I received this product for free as a member of the TOS Homeschool Crew in order to provide an honest review for my readers.
Leave a Reply
PLEASE NOTE: All comments will be moderated prior to being posted in blog.