Latin is one of those subjects I really want my kids to at least have some grasp of during our time as homeschoolers. I feel that Latin is very helpful in understanding the various aspects of languages which include grammar and vocabulary.  When I had the chance to review the first 10 lessons of the Visual Latin I course, I was excited about it. Of course a little more enthusiastic  than my children but as we have dug into the Visual Latin lessons from the DVD,  we have all learn to appreciate them.  I still hear that Latin is a dead language from my oldest, but the Visual Latin lessons are short enough and easy enough to complete in one sitting, that they do not seem to be as burdensome to her as other Latin courses we have attempted in the past.
Each of the lessons on the DVD, taught by Dwane Thomas, contain several short videos along with the worksheets that go along with each video. Each lesson contains 3 different sections: grammar, sentences, and a reading one.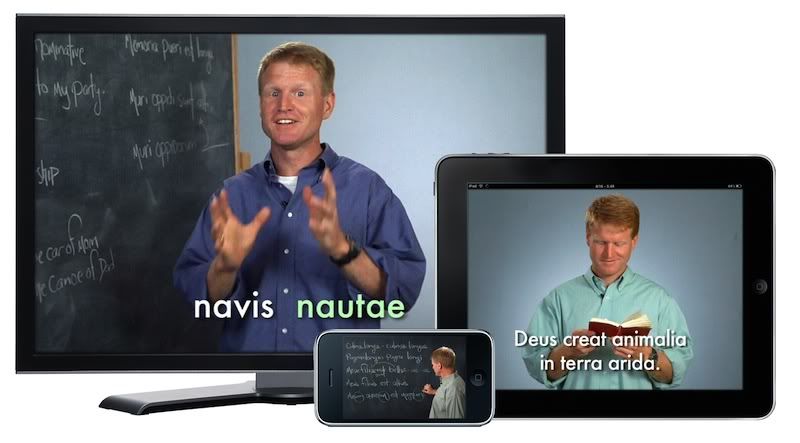 All you need to get started is to print off the worksheets for each lesson and watch the associated lesson from the DVD.  The DVD also contains the answers to each worksheet so it is very easy as a parent to have your kids learn Latin.  I like that each lesson's total video length is between 15 and 25 minutes long.  We have been able to complete a lesson in a fairly short time each day  and this also helps my kids to not be overwhelmed by it.  The lessons were easily completed by both my 8 and 13 year old who have had little to no experience with Latin in the past.  I was also impressed that both my kids seemed to gain a good understanding of what was taught in each lesson. I also have notice that we have had some discussion beyond Latin as a result of doing one of a Latin lesson. We have often branched off into discussions about how things are within English as well as other languages that we have studied. This has really reinforced for me how much Latin is helpful in learning other "live" languages too.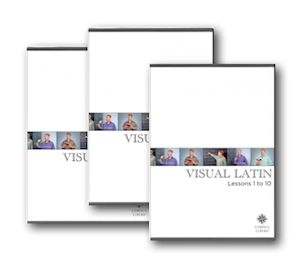 The Visual Latin Lessons 1-10 DVD contains several introductory lessons which include the following titles:
Why Study Latin?
Latin Then and Now
How to learn a Language
Stuff You Should Know About Latin
The 10 main lessons include the following subjects:
Being Verbs Basics | To Be and Not to Be
Being Verbs Basics | Predicate Nominatives and Adjectives
Gender | Boy Words and Girl Words
Singular and Plural | E Pluribus Unum
Declensions | Meet the Cases
Adjectives Learn to Agree with Nouns
The Case Files | Nominative and Genitive
Counting to 10 in Latin
Active Verb Basics | Indicative Mood
The Case Files | Accusative
The entire Latin I course contains 30 lessons and you can view the first 4 introductory lessons plus 2 regular lessons for free by visiting the Visual Latin website HERE.
The cost for Visual Latin is quite reasonable.  There are different ways to purchase the Visual Latin courses. You can buy them either as DVDs or as downloads. They can be bought in groups of 10 lessons or as a complete set all at once. Prices vary from $25 to $80 for a Single / Family license and there is also a Group / Class option for purchase that have varying prices too. You can check out the different Latin I course pricing options HERE.
Visual Latin has a special coupon code that you can use to get $10 off your order.  –     OCT$10
Please read what other TOS Homeschool Crew members had to say about Visual Latin here on our crew blog. 
Note: I received this product for free as a member of the TOS Homeschool Crew in order to provide an honest review for my readers.
Leave a Reply
PLEASE NOTE: All comments will be moderated prior to being posted in blog.