I have fond memories of playing several games during my childhood.   Scruble Cube is similar to two of my favorite games.  When you see  a picture of Scruble Cube you might guess which ones.    RSV Productions has provided me with a Scruble Cube for my family and I to play with and in order to review on this blog.
What exactly is Scruble Cube?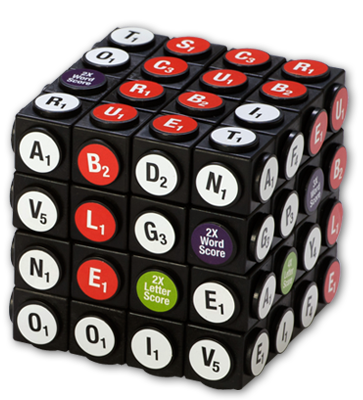 It is both a word game and a puzzle.   The package comes with not only the cube but a score pad, a 1.5 minute sand  timer, and set of instructions.   I received a Getting Started Guide which told me some cube basics and  how to manipulate it in order to move letters around to specific places on the cube.  The instructions include two different game options and also suggests how you can alter game play by either not using the timer or choosing to use the timer and extending the time each player has by player agreement.   The Scruble Cube is recommended for ages 8 and up and for 1 to 4 players.  In addition to the regular game instructions, RSV Productions website has several lesson plans available to download for free from their website at www.scrublecube.com/education.  The lessons are designed to work with math, language, spelling and science and are adaptable to any numbers of students.
Our family played with the Scruble Cube in several ways while we were reviewing the game.  We used it both as a game and also just by having everyone play with it throughout the day whenever we wanted.    We started off using the timer but chose most of the time to just allow everyone to just find a word without a time limit.  Scoring is dependent upon the value that is associated with each letter.  For example if your word is CAT then your score would end up being 5 since both the letters 'a' and 't' are worth 1 point with 'c' being 3 points.  If your word has either a letter or word multiplier tile next to it then that changes your word total accordingly.  As a homeschool family we also just allowed everyone to use the cube as a spelling challenge during our free time throughout the day.  I enjoyed the time we spent as a family playing with the Scruble Cube both as a game and as an educational toy.
One thing I do need to mention is that after playing with it for a few weeks, we had something unexpected happen.   We happened to be in the middle of a game and one of the letter 't's just fell out.  Knowing how some times batches of toys sometimes have issues with them I am being open-minded as to the quality of Scruble Cube and have contacted the customer service email  that came with my cube to see what they have to say and how it is handled and will post additional information as it becomes available to me.   [ADDED on 10/12/11:  I got a great response time to my email about my cube having a problem with it.  The company responded the next morning after I emailed them asking me more about my problem and immediately sent me back a note when they realized the cube could not be fixed and are mailing me out a new one to replace the broken one.  After a week or so of play time I will report back on the durability of the Scruble Cube.   :ADDED on 10/12/11]
While I cannot attest to the quality of the Scruble Cube, I can say that I do like the concept behind the Scruble Cube both as a parent and as a homeschooler.
You can purchase Scruble Cube from RSV Productions for  $24.95 at http://www.scrublecube.com/shop.html or from several retailers such as Barnes & Noble, Toys'R'Us, and Meijer stores.
You can discover more about Scruble Cube at http://www.scrublecube.com/ as well as join their facebook page and watch a video as well.
Scruble Cube has also won multiple awards.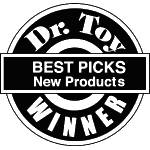 For more reviews on the Scruble Cube please visit the TOS Homeschool Blog for what my fellow reviewers had to say about Scruble Cube at the TOS Crew Blog.
 Note: I received this product for free as a member of the TOS Homeschool Crew in order to provide an honest review for my readers.
Leave a Reply
PLEASE NOTE: All comments will be moderated prior to being posted in blog.