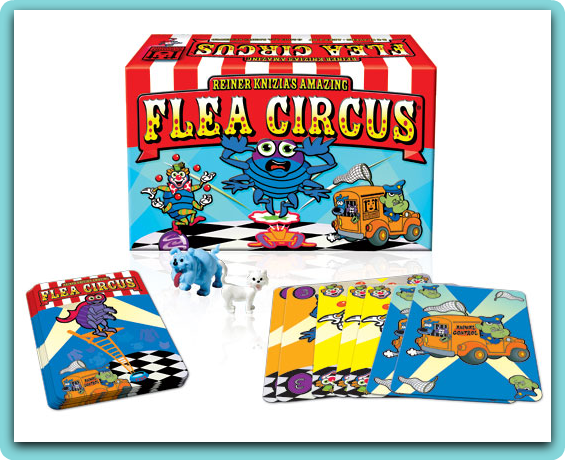 "Ladies and Gentlemen, Children of all Ages, come one come all to play flea circus, a game for ages 6 and up.  We can handle 2 to 6 players and the more the merrier! "   Come see the amazing fleas perform death defying feats!  Come see the flea acrobats and clowns!"
Our family has been lucky enough to be sent a copy of Flea Circus by R & R Games Inc. in order to review as a member of the TOS Homeschool Crew.
This game comes with a set of 55 cards, 20 cat and 20 dog  playing pieces.  The object of this game is to  collect the most cats and dogs to win the game.    The cats and dogs in this game are the spectators and by playing certain cards you determine how many of them attend the various parts of the circus.  Throughout the game, depending upon the cards played, you can collect from the main area of dogs/cats  or from other players.  If a dogcatcher card is played then everyone has to place the number of dogs/cats based on the last card that they played in their played pile of cards.  The game ends when everyone has all the dogs and cats and then each players points are totaled to see who has won.    Flea Circus is a simple game to play but is lots of fun and allows for strategy as well. The rules do allow for players to steal dogs and cats from each other, but even though we are competitive, we did not have too many issues with this from our younger child.  The rules are a little complex when you first look at them but it mainly has to do with how the different cards can be played and with a copy of the rules on hand which are vey easy to understand, it really is not as complicated as it may seem at first.
Our family has really been enjoying this game since we received it from R & R Games.  It has become one of our favorite games to play on a game night.  We can be a bit competitive and we sometimes get out of hand while playing.  Who knew that a pile of dogs and cats could cause such a ruckus in our home!  All in fun and we certainly do have fun playing this game.
R&R Games Inc's mission statement is as follows:
"Our Mission is to produce high quality family board games so that we can play around all the time. Fun games. Challenging games. Big games, little games, games that climb on rocks… (Oh wait, that's something else…) Anyway, that's our mission."
You can purchase a copy of Flea Circus for $15.95 at the R&R Games Inc. website  HERE.   Better yet, R&R Games has provided me with a discount code so you can get an even better deal if you purchase this game from them.   Christmas really is not that far away and this would make a great gift for any child.
R & R Games has provided my readers a promotional code good for 20% off any purchase from their website which is good through 12/31/11.
You can check out what my fellow TOS Homeschool Crew members had to say about Flea Circus as well as the other game,  Pig Pile, which our TOS Homeschool Crew also  received for review from R & R Games Inc. by going HERE.
Note: I received this product for free as a member of the TOS Homeschool Crew in order to provide an honest review for my readers.
Leave a Reply
PLEASE NOTE: All comments will be moderated prior to being posted in blog.