There are many Bible curriculum out there and I admit we have tried different ones in the past.  I am always on the lookout for a Bible curriculum that goes over things a little more in depth than a basic understanding and one that doesn't just go over the main stories and concepts that my kids already know.    Recently, I received the Homeschool edition of Discovering Our Amazing God set in order to use and review for my readers as a member of the TOS Homeschool Crew.  I was provided a copy of both the teacher and student editions to review.  I was very interested to see how this curriculum would hold up to what I would like to see in a Bible curriculum.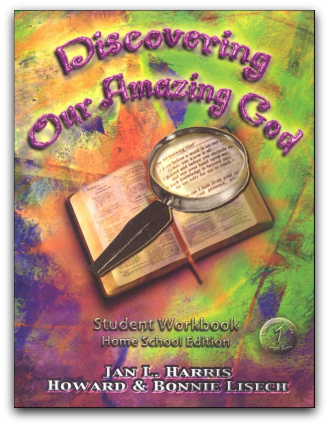 From the author of this curriculum, Discovering Our Amazing God:
" The main focus of this study is the help students learn to love God and deepen their relationship and fellowship with Him. Progressing through this study, we show how God and Christ have EXACTLY the same attributes in their character and LOVE for us as people. This essential study helps students strengthen and repair their spiritual foundations before they try to discover who they are in Christ."
Discovering Our Amazing God is first in a series of Bible curriculum that was given to our TOS Homeschool Crew and  is targeted for 7th grade but could also be used for 8th and 9th grade as well.   My oldest daughter and I have been working through this study and I have been really happy with it.    Normally I just buy and  use the student edition but I have to say the teacher edition is well worth getting for this study.   The teacher edition provides additional information which allows you to lead discussions and guides you in teaching each lesson making it easier for you as well as adding to the dimension of the study.   From what we have done to this point, I can say it goes beyond  other teacher's editions I have seen and actually adds content and more information to use with your student, which I do like and appreciate.  It is not just guiding you through what the student edition has but going above that and making the teacher's edition worth purchasing.   Throughout the study the student has text to read and questions to respond to as well as memory work, writing exercises, reviews and tests.  There is also a missionary emphasis in each lesson so that your student learns about a different group of people and is given a prayer focus for each one.   While we have not gotten very far yet in our study I can already tell that there is more than just a surface understanding being taught of who God really is.  Your student is also encouraged to journal which teaches a very valuable Bible study skill.  I am looking forward to working more through his study with my daughter and even selecting the next study to try out as well.  The teacher edition has suggestions for discussions as well as ideas for outside supplemental material to use with each lesson.  Not only is my child learning Biblical concepts and developing a better understanding of God and her relationship to Him but I can see other areas of learning being incorporated in this study too.  I admit that what I have seen is meeting more of my expectations of a Bible curriculum than I thought would have been possible.  My next criteria is to see whether or not what I believe about  God and the Bible as a Christian will be taught in this curriculum.  At this point I do not see any indication that this will not be true and I do love that both the NIV and KJV versions are included in the teacher's edition when verses are being quoted though NIV is the main source being used.
That all being said I feel that Discovering Our Amazing God is a good Bible curriculum to consider if you are searching  for one that teaches beyond what a basic study would provide.  It seems to provoke deeper thought, goes over a wide range of material in order to cover the ideas and concepts being taught and gives a wider scope of learning by adding a missions focus too.
You can purchase Discovering Our Amazing God from Deeper Roots Publications website HERE. It is $19.95 for the Student Edition and $28.95 for the Teacher Edition.
If you are interested in learning more about this study and the others that Deeper Roots Publication has to offer, I suggest checking out their website at http://www.deeperroots.com/.   In addition, you can read what my fellow Crew members had to say about Discovering Our Amazing God study as well as the other books and studies we received to review  —- Encouragement For Home School Moms,  Discovering Who I Am in Christ (7th to 9th grade),   Discovering Christlike Habits (7th to 9th grade),  Discovering Christlike Character (7th to 9th grade),  and Rooted and Grounded (10th to 12th grade).  The Deeper Roots Publications reviews can be found on our TOS Homeschool Crew HERE.
Note: I received this product for free as a member of the TOS Homeschool Crew in order to provide an honest review for my readers.
Leave a Reply
PLEASE NOTE: All comments will be moderated prior to being posted in blog.