As a homeschool Mom I love games where we can combine fun and learning.  Griddly Games provided me a copy of the Game, Civilize This!  as a member of the TOS Homeschool Crew for review.   I have to say I was excited about receiving this game because history is one of those subjects that I love having extra ways to teach.   Civilize This! is a travel game & expansion set for the Wise Alec game from Griddly Games.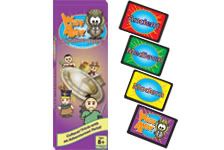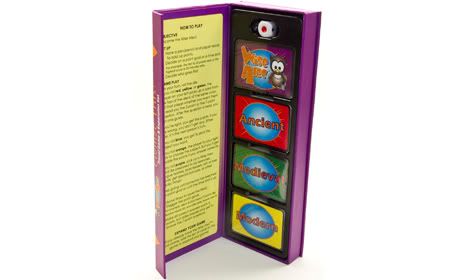 This trivia game contains about 300 questions that test your knowledge of  Ancient, Medieval, and Modern cultures.  Each card contains an easy and harder question that a player can choose to answer.  The easier question is worth less points but there is also a set of modified rules that allows you to choose whether to force the older kids or adults to always answer the more difficult questions while  everyone still gets the same number of points.   The Wise Alec card, which was one of our kids' favorite cards to get, has the player doing various tasks such as tongue twisters, brain teasers, and fun exercises!  Each player rolls the die and whatever it lands on is the card selection you choose from so you could get one of the three types of history cards or the Wise Alec card or sometimes the player or one of the other players gets to choose which card the player has to select for their turn.  You play to a predetermined number of points which we chose to change depending on how much time we  wanted to play.    You can go to the Griddly Games website HERE to get the specific rules which gives you the entire details for this game.
I know my kids were a little bit wary of trying out this game, but once we started playing we just could not stop the first time we played.  Now it is one of the few games requested most on our family game nights.  I assure you this makes me very happy as a Mom not to mention as a homeschool Mom.  I was very amazed that my kids did know some of the answers that they did, especially since I did not remember actaully going over some of the material.   To give you an idea of some of the Wise Alec cards you could get, when I was given one of these cards, I had to do my best karate move for points.  Of course my youngest just started taking karate this year and she actually corrected me after I finished doing one of the combinations she had recently learned in her class.    Of course watching Daddy do the Macarena was also one of our favorites.  My kids learned that I am the queen of tongue twisters!  You can tell the Wise Alec cards are pure genius as an addition to this game.  We hardly even knew we were playing an educational game.

Civilize This! is targeted for ages 8 and up and for two or more players, though the more the better!  I admit even I had trouble remembering some of my history so it really leveled the playing field for our family.  Everyone had as much of a chance to win this game especially if you choose to play by the modified rules to help out the younger players.
Our family is still very much into this game after playing it many times and both my kids are looking forward to playing this with their friends.  I am thinking we may be looking at buying one of the other Wise Alec trivia games.  Currently  you can purchase Civilize This! as well as other Griddly Games products from various places and Griddly Games has a web page on their website where you can look up retailers based on your location by  going HERE .   The retail price I have seen for this game is $15 but I have seen it for various prices so the price range may vary depending on the retailer where you purchase the game.  I suggest checking out the various retailers that Griddly Games has listed on their website.  If you also agree with me and like Civilize This! you may want to check out the other trivia games that they have available such as the original board game, Wise Alec as well as the other expansion set travel games.
Check out what my fellow TOS Homeschool members had to say about Civilize This! as well as the other expanision set, Nature Nuts by visiting our Crew Blog HERE.
Note: I received this product for free as a member of the TOS Homeschool Crew in order to provide an honest review for my readers.
Leave a Reply
PLEASE NOTE: All comments will be moderated prior to being posted in blog.