After having used The Old Schoolhouse Homeschool Planner from the Old Schoolhouse Store, I was equally as blessed to have the opportunity to receive and review one of the student planners from them as well.
My oldest is in 7th grade which puts her into  Middle school had we sent her to school.  She is now in the beginning of  those teen years where she needs to start keeping better track of her own activities and taking more responsibility for her educational tasks and activities as well as outside ones.   I was as thrilled as she was to get the chance to use the Middle School Student Schoolhouse Planner.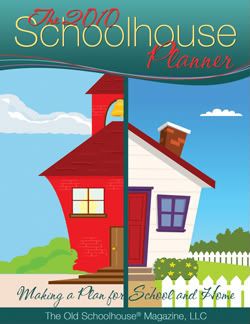 My daughter typed in her recurring meetings directly into the calendar pages and printed them out to place in her planning binder.  She has since written down additional events and activities on her monthly planner pages.  She really loves having her own planner so that she can keep track and control her personal life a little better than she has in the past.   There are so many forms that the planner has to offer your student that they can pick and choose those that are most relevant to what they need. Being an e-book, they can either type stuff into them and print the pages or print off blank copies and later write in the information they want to add.  My daughter has done a little of both of that.  She has printed off reference pages such as measurement conversions, time-lines, state and country capital pages, as well as started using a Bible reading checklist.   She is starting to learn to play the flute and incredibly there is a form for her to keep track of her practice and lesson times. Just like the main Schoolhouse Planner, the student planners also have tons of forms and other items that are too many to include in just one review of it.    You can check out the product page here on the Old Schoolhouse Store website to get more details about the Middle School Student planner as well as the additional student planners and modules that they offer.
You can purchase the Middle School Student Schoolhouse Planner for $19.00 on the website at the Old Schoolhouse Store here.
You can download a sample of the planner at the bottom of the product page here so that you can check some of it out for yourself.

We also are using the Secondary Student Planner (which is $9.95) for my youngest daughter too. She is equally thrilled to have her own planner where she can take charge of her life easier. I have to say as a parent I have never seen a better organized and more useful resource for my kids. Teaching them to be more responsible individuals is so much easier having a tool like the Old Schoolhouse Student planners. You can check out all of them at their website.
Note: I received this product for free in order to provide an honest review for my readers.
Leave a Reply
PLEASE NOTE: All comments will be moderated prior to being posted in blog.