A few years ago I got acquainted with TOS magazine's Schoolhouse Store online. I browsed through the various homeschool resources they had to offer and there it was! — their Schoolhouse Planner made just for homeschoolers. Now you can also purchase their student planners on their website here . They have one available for high school ($29), middle ($19) and elementary school age ($9.95) students. Check out their website for other price options as well.
This year the 2010 Schoolhouse Planner is even better than it was when I started using it for our family. I have to mention that it is not only a planner for your homeschool, but for your household as well. It also contains items that you can use in your homeschooling for your kids. It is laid out so that each month you not only have your calendar and planning tools for your homeschooling, but also articles, recipes, and activities for that month as well. In addition, TOS has modules that you can purchase to use as a standalone item or to go along with your planner. There are overall planning pages and forms for school and home. You can tell just from my brief description there is so much packed into this planner that I believe everyone will find what they need and more in the Schoolhouse Planner. There are a total of about 614 pages. Also, you can use this planner as an online planner and enter your information directly into it and save it, print out what you need, or just print out the pages as they are and use it as a strictly physical planner.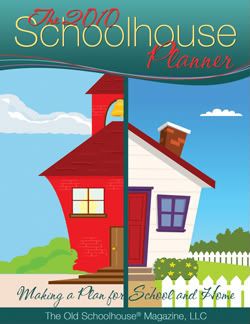 For only $39.00 you can purchase a digital copy of this planner for yourself at the Schoolhouse store at http://www.theoldschoolhousestore.com
. It is also available on CD.
Please note that I am writing this as part of a promotional contest sponsored by TOS Homeschool Store. I received a complimentary copy of the planner. The opinions expressed in this ad are my own.
Leave a Reply
PLEASE NOTE: All comments will be moderated prior to being posted in blog.